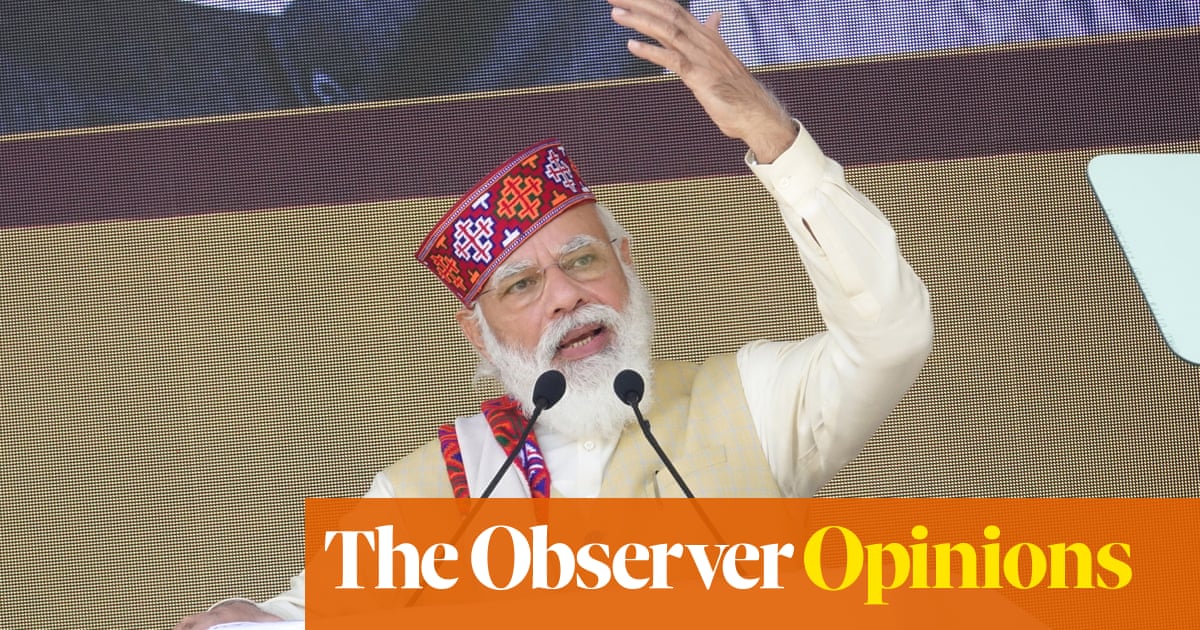 S.reaching the pinnacle of truth in power has always been a tense and dangerous occupation, as Russian opposition leader Alexei Navalny recently recalled after narrowly surviving a plan of poisoning he said was headed by the Kremlin.
Countless Kurdish activists are languishing in prison for defying Turkey̵
7;s modern sultan. In Iran, human rights lawyer Nasrin Sotoudeh is mercilessly punished for defending women's causes. In Zimbabwe, Catholic clergy who condemn the abuses of the Emmerson Mnangagwa regime are accused of treason.
When China jailed Ren Zhiqiang, a well-known Communist Party critic who ridiculed President-Emperor Xi Jinping as a "clown," much of the world shrugged. What else to expect from an authoritarian dictatorship backed by the gulags and mass surveillance
But when the supposed democracies behave in a similar way, the alarm bell rings. This is now the case in India. Its right-wing populist prime minister, Narendra Modi, erected an overwhelming vertical of Hindu majority power, where inclusive and secular traditions drawn by Mahatma Gandhi and Jawaharlal Nehru once proudly stood.
Like Russia, Turkey, Iran and Zimbabwe, India has elected leaders, a representative parliament, independent judges and a legitimate constitution. And like them, this increasingly resembles a deceptive facade. Under Modi, the "greatest democracy in the world" has become an oriental house of cards, dominated by Hindu nationalist pranksters and pranksters.
Discussing Modi's landslide election victory last year, Indian writer Pankaj Mishra said that this aspiring guru, who points to his humble origins, had seduced India with envy and hatred, exploiting inequality, division and resentment against the elites in the style of demagogues around the world. Modi's method, Mishra wrote, was "to tickle a fearful and angry population with the scapegoat of minorities, refugees, leftists, liberals and others while accelerating predatory forms of capitalism … He authorized his supporters to explicitly hate a range of people from treacherous Pakistanis. and Indian Muslims to their "anti-national" Indian appeasers. "
The latest manifestation of Modi's intolerant ethnic-religious supremacism came last week with his government's attempt to silence a major "appeaser" – Amnesty International, the global advocacy group that has made a habit of saying courageously the truth in power.
Amnesty was born in 1961 after a British lawyer, Peter Benenson, wrote a passionate article in Observer, The Forgotten Prisoners, highlighting the plight of people around the world incarcerated for peacefully expressing their views. Since then, the organization has helped ensure the release of thousands of "prisoners of conscience".
Amnesty announced last week that it was forced to close operations in India after the government arbitrarily froze its bank accounts, apparently in connection with an investigation into alleged financial misconduct. In truth, the move was a gross attempt to stop Amnesty's reports of the growing human rights abuses suffered by Muslims and other minorities since Modi took power in 2014. It marked the culmination of a protracted campaign of harassment and intimidation similar to that faced by other independent civil rights groups, journalists, activists and lawyers.
If Modi hopes to stifle Amnesty India's criticism, he will be disappointed. Conversely, closure is likely to increase international control over systemic misrule. Let's start with Kashmir.
Modi imposed state-directed government last year in what was a constitutional coup. The resulting draconian blockade, described by Amnesty International, was lifted, then reset as Covid-19 spread. The Indian military retains half a million soldiers in Kashmir, thousands of arbitrary detentions continue amid sporadic violence and restrictions on the internet and media and restrictions on access, ensuring that the majority of the Muslim population remains largely isolated.
The economic upturn and the new investments promised by Modi did not materialize. "Normality" has not returned. Meanwhile, an officially approved Hindu colonization program is underway, raising allegations of colonialism. Kashmir, it is claimed, is the "new Palestine".
A stinging report by Amnesty on "multiple human rights violations" committed by the police and incendiary hate speech by Modi's political allies before and during the municipal riots in Delhi in February also deserves wider attention.
Dozens of Muslims died in the riots. Yet, Amnesty said, "six months later, there hasn't been a single investigation into the role of the Delhi police." He condemned "continued state sponsored impunity".
Amnesty also focused on the daily violence, harassment and discrimination suffered by women and girls. One rape is reported every 15 minutes in India. Last week, the lethal gang rapes of two young Dalit women in Uttar Pradesh sparked nationwide protests.
In 2018, Modi – previously accused of misogyny – outlined a national "women first" strategy. But like many of his big hisses, it wasn't much.
There have been some advances, such as electrification and banking in rural areas, and schemes for building gas for cooking and sanitation. But Modi's reign did not bring India the rapid growth, national security and strengthening of the global status it promised six years ago.
Unemployment rose sharply after his election. His 2016 currency reform was disastrous, as was his handling of the pandemic. And there have been recent armed clashes with Pakistan and China, with India coming out worse on both occasions. Oddly, Modi is sending tanks to the Himalayas. It could be an uphill battle.
Internationally, India continues to beat under its weight. As a seemingly similar partner to the West, his current leadership is a major disappointment.
Donald Trump could approve of the rhetoric and contempt for civil rights of Modi's "strong man" "new India". Joe Biden will not. Kamala Harris, Biden's American Indian running mate, was highly critical of Kashmir. Many in Europe have not forgotten his sad record as Prime Minister of Gujarat.
As things are going, it is uncertain whether India, once an outstanding model for the postcolonial developing world, can still be considered a functioning democracy. This is chilling. This is sad. This is Modi.
Source link