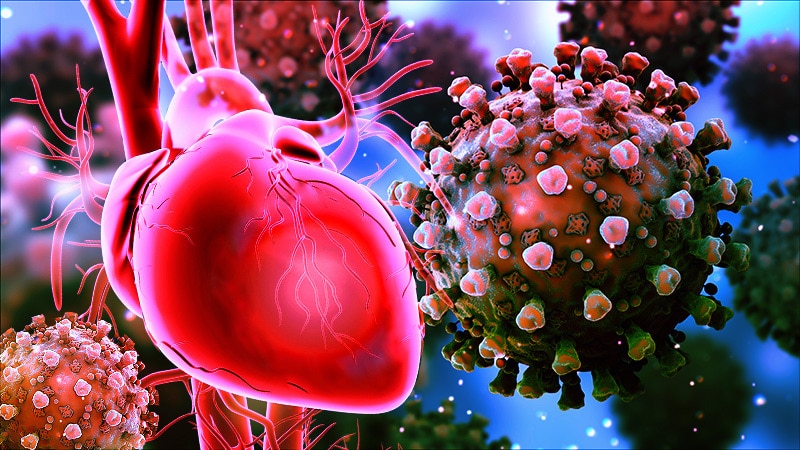 Editor's Note: Find the latest news and insights into COVID-19 in Medscape Coronavirus Resource Center.
A new study using cardiac magnetic resonance imaging (CMR) to examine the effects of the novel coronavirus infection on the heart showed signs suggestive of myocarditis in 4 out of 26 competitive athletes who recovered from asymptomatic or mild cases of COVID-19.
While these and other similar findings are worrying, commentators say the findings are preliminary and do not indicate that widespread CMR screening is appropriate.
Two of the 4 patients who showed signs of myocarditis in this series had no symptoms of COVID-19 but tested positive on routine tests. A further 1
2 student athletes (46%) showed late gadolinium enhancement (LGE), of which 8 (30.8%) had LGE without T2 elevation, indicative of previous myocardial damage.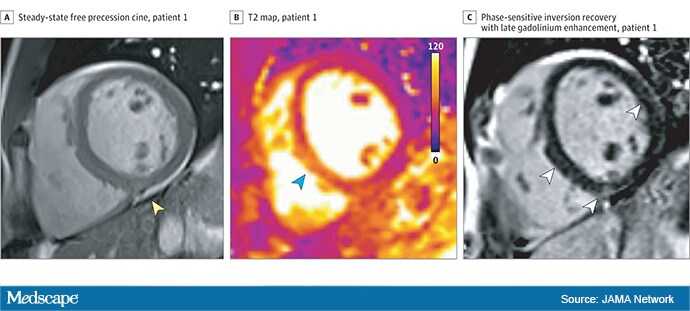 This finding, said Saurabh Rajpal, MBBS, MD, the lead author of the study, "could suggest previous myocardial damage or it could suggest athletic myocardial adaptation."
In the research letter published on 11 September in JAMA Cardiology, Rajpal and colleagues at Ohio State University in Columbus described the results of comprehensive CMR examinations in competitive athletes referred to the sports medicine clinic after testing positive for COVID-19 on reverse transcriptase polymerase chain reaction (RT-PCR) between June and August.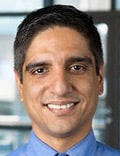 The university made the decision in the spring to use CMR imaging as a screening tool for returning to play, Rajpal said. Although CMR is used for research purposes, the American College of Cardiology's recent "consensus expert opinion" statement on resuming sport and exercise after COVID-19 infection does not require CMR imaging to resume competitive activity.
None of the athletes required hospitalization for their illness, and only 26.9% reported mild symptoms during the short-term infection, including sore throat, shortness of breath, myalgia and fever.
Electrocardiogram, serum troponin I, and transthoracic echocardiogram were performed on the day of CMR imaging. There were no diagnostic ST / T wave changes, ventricular function and volumes were normal, and no athletes showed elevated serum troponin levels.
Updated Lake Louise criteria were used to evaluate CMR findings consistent with myocarditis.
"I don't think this is a specific COVID problem," Rajpal said in an interview. "We've seen myocarditis after other viral infections; it's just [that] COVID-19 is the most studied so far and with strenuous activity, heart inflammation can be risky. "He added that larger, longer-term studies with control populations are needed.
His group continues to follow these athletes and suggested that CMR "may provide an excellent assessment of risk stratification for myocarditis in athletes who have recovered from COVID-19 to guide safe competitive sports participation."
Meaning still unknown
Matthew Martinez, MD, director of sports cardiology at Atlantic Health-Morristown Medical Center and the Gagnon Cardiovascular Institute, Morristown, New Jersey, urged caution in making the results of this small study too much.
"We know that viruses cause myocardial damage and myocarditis. What we don't know is how important these findings are," Martinez said in an interview. "And in terms of risk, would we find the same phenomenon if we did it in, say, flu patients or other age groups?"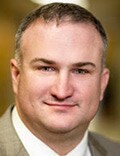 "I haven't seen all the pictures, but what I would like to know is that are these very subtle findings? Are they obvious findings? Are you part of an active individual with symptoms? I need to know a little more data before I can tell if this influences the increased risk of sudden cardiac death that we often associate with myocarditis and I'm not sure how this can influence decisions about returning to play, "added Martinez, who was not part of the Ohio State research team .
Martinez, who is the section of the American College of Cardiology Sports and Exercise Chair but was not an author of their recent guide to returning to sport, said he does not regularly use CMR to evaluate athletes after infection. according to the recommendations of the ACC.
"My approach is to evaluate anyone with a history of COVID infection and, first, determine if it is a major infection with significant symptoms or not. And then, if they participate at a high level or are professional athletes, I would suggest an ECG, echo and troponin. This is our recommendation for the past few months and is still an appropriate way to assess that group. "
"If there is an abnormality or symptoms going on, I'd ask for an MRI at that point," said Martinez.
"We don't have much data on symptom-free athletes to use to interpret these CMR results and the study offered no controls. We don't even know if these results are new results or old results that have just been identified now," he added.
New updated recommendations from the ACC will arrive soon, Martinez said. "I don't expect them to include CMR as the first line."
Cardiologists worried about misinformation
This is at least the fourth study showing post-COVID-19 infection myocardial damage and there is concern in the medical community that the media have overestimated the risks of heart damage, especially in athletes, and at the same time overestimated the benefits of CMR. .
Notably, Puntmann et al reported in July a study in 100 patients that showed evidence of CMR myocardial inflammation in 78% of patients recently recovered from a COVID-19 attack.
"That document is completely problematic," John Mandrola, MD, of Baptist Medical Associates, Louisville, Kentucky, said in an interview. "It has the same general weaknesses, which is observational and retrospective, but there were also numerical problems. So for me that paper is an interesting observation, but completely unconvincing and preliminary," Mandrola said.
However, those limitations didn't stop the studio from gaining significant media attention. The Altmetric score – an attention score that tracks all mentions of an article in the media and on social media – for the Puntmann et al paper comes close to 13,000, including coverage of 276 news outlets and more than 19,000 tweets, placing it in the 99th percentile of all search results monitored by Altmetric to date.
To counter this, an "open letter" was published online just days before the publication of the Rajpal study, urging professional societies to "offer clear guidance to discourage CMR screening for COVID-19-related heart abnormalities in asymptomatic members of the public. in general". The letter was signed by 51 doctors, researchers and imaging specialists from around the world.
Mandrola, one of the signatories, said: "This topic really scares people, and when it gets in the media like this, I think the leaders of these companies need to go out and say something really clear on the major news networks letting people know. that it is too premature to start doing CMR on any athlete who has contracted this virus, "he said.
"I understand that the current guidelines may be clear that CMR is not a first-line test for this indication, but when media coverage is so wide and so exaggerated, I wonder what impact the guidelines will have in countering this fear. that's in the community, "said Mandrola, who is also chief cardiology consultant for theheart.org | Medscape Cardiology.
Asked to comment on the letter, Rajpal said he agreed with those who signed it – that asymptomatic people in the general population do not need a routine cardiac MRI.
"However, competitive athletes are a different story," he said. "Tests depend on risk assessment in specific population and competitive athletes, according to our protocol, we will achieve enhanced cardiac work, including CMR for a responsible and safe start of competitive sports … In the current scenario, as we get more data, including control data, we will continue with our current protocol. "
Rajpal, Martinez and Mandrola did not disclose any relevant financial relationships.
JAMA Cardiology. Published online 11 September 2020. Research letter
This article also appears on MDedge.com, part of the Medscape Professional Network.
For more from theheart.org | Medscape Cardiology, join us Twitter is Facebook