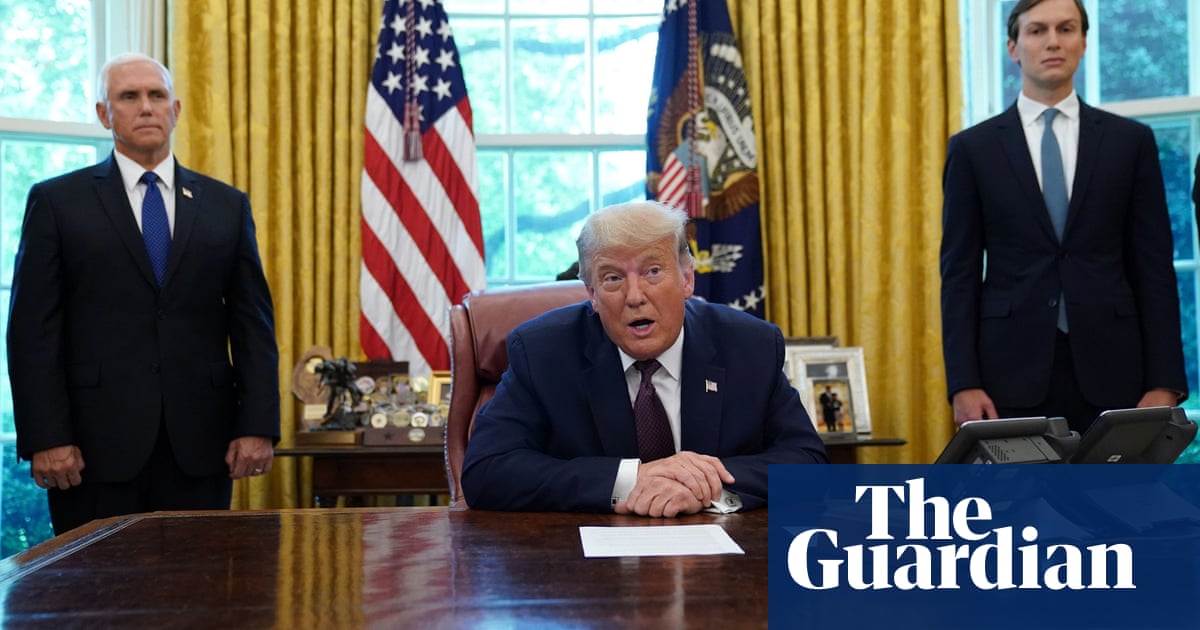 Bahrain has agreed to establish diplomatic relations with Israel and will join the UAE on Tuesday to sign a White House deal.
"Even the great warriors get tired of fighting, and they are tired of fighting," Trump told reporters in the Oval Office, describing the deals as peace deals although neither Gulf monarchy has ever been at war with Israel, and both they had established a loose casual tie. Bahrain has long supported Israel̵
7;s integration into the region.
"The sand was loaded with blood, and now you will see that a lot of that sand will be loaded with peace," Trump said. The US president presented the agreements as part of a transformation of the region, adding, "When I took office, the Middle East was in a state of utter chaos."
The announcement comes less than a month after the UAE agreed to strengthen economic ties and work towards full diplomatic relations with Israel. A key element of that deal – that Israel would suspend its plans to annex the West Bank – was called into question just days after its announcement.
Foreign ministers from both Gulf states will sign their respective agreements with Israeli Prime Minister Benjamin Netanyahu on Tuesday.
The Trump administration has pursued a strategy to persuade the Gulf monarchies to normalize relations with Israel after failing to make progress towards a Palestinian-Israeli solution.
Both the main US negotiator, the president's son-in-law and adviser, Jared Kushner, and the US ambassador to Israel, David Friedman, are close to right-wing pro-settlement groups and have promoted substantial Palestinian territorial concessions.
Many Palestinians saw the rapprochement of the Gulf states with Israel, without any gain for Palestinian rights, as a betrayal.
Khaled Elgindy, senior fellow of the Middle East Institute of Washington, he said on Twitter: "The announcement of Bahrain, after the normalization of the UAE, is another blow to the Palestinians and the hopes of a state or of ending the occupation."
Hadar Susskind, the head of Americans for Peace Now, said: "Normalization with the Arab world is welcome, but not as a tool to normalize the occupation and conflict with the Palestinians."
Kushner said he expected more Arab countries to follow suit in establishing formal relations with Israel. "We weren't sure what the reaction would be, but it has been overwhelmingly positive and more and more countries are rushing to try to understand how they can do good things for their citizens and create a paradigm for a much more peaceful and prosperous future," he said, but did not name the countries.
Kirsten Fontenrose, a former senior official on Trump's National Security Council, said Bahrain would not accept normalization without the approval of Saudi Crown Prince Mohammed bin Salman (widely known as MBS), but added that Arabia itself Saudi would hardly have followed the same path while Bin Salman's father is still on the throne.
"Bahrain does not make a move in foreign policy without Saudi approval, and I think since MBS is not free to normalize relations between Saudi Arabia and Israel right now because King Salman is against it until there is a Palestinian solution, "said Fontenrose, now director of the Scowcroft Middle East Security Initiative at the Atlantic Council. "This is the way to signal that the next leadership of Saudi Arabia supports the idea of ​​Arab-Israeli normalization."
Morocco, Kuwait and Oman are also considered possible candidates.
One disincentive, Fontenrose said, was that two key benefits the UAE thought it would gain from its deal with Israel are now under discussion. Israel continued to oppose the UAE's purchase of US F35 stealth fighters and disputed that the deal entailed a long-term suspension of its aspirations to annex Palestinian territory to the West Bank.