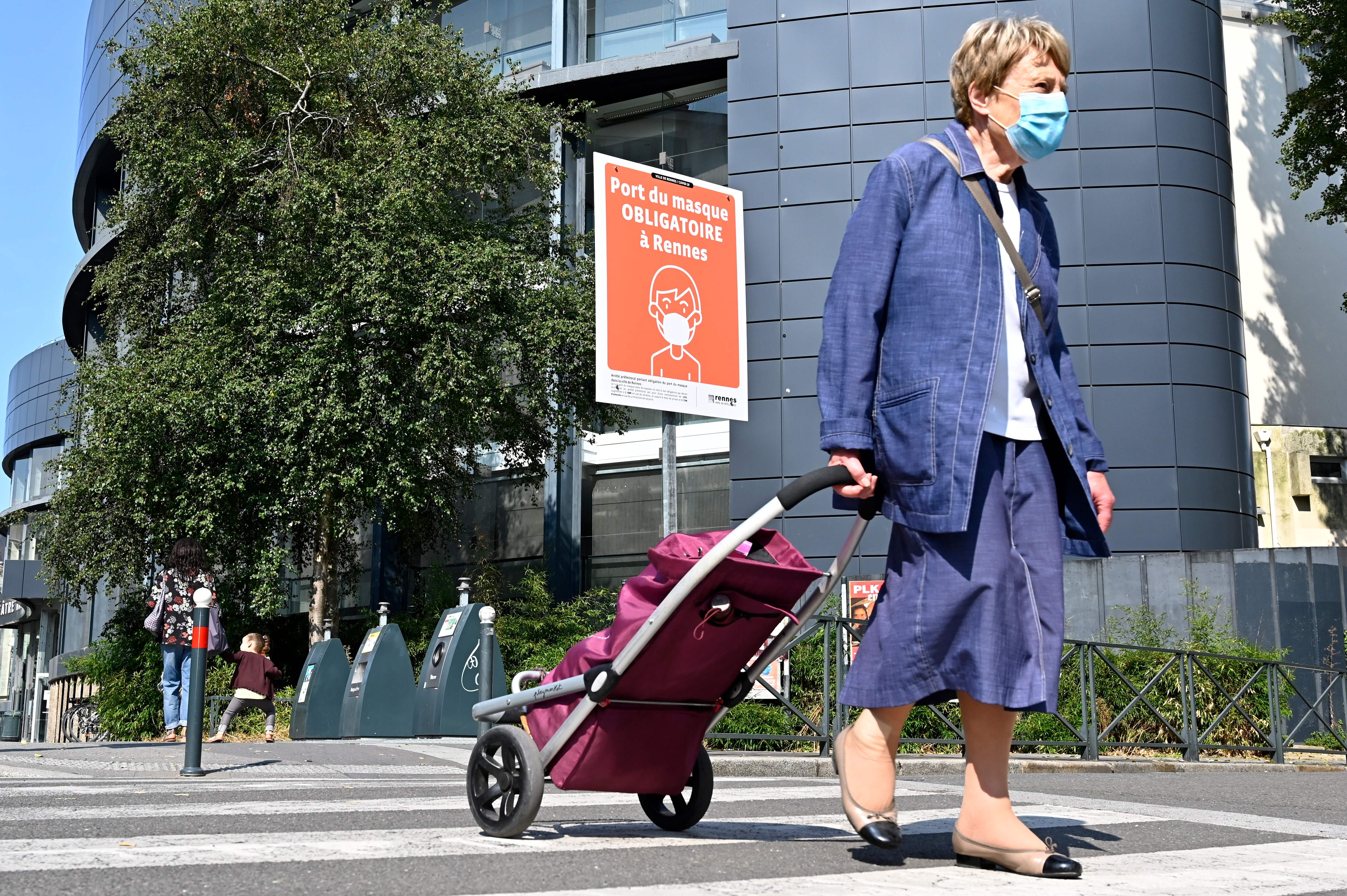 Over 10,500 cases of coronavirus were reported in France on Saturday, a new daily record. The previous record of 9,843 infections had been set just two days earlier.
The sad number – 10, 561 – serves to underline the resurgence of the virus in France, as countries on the continent are also struggling with an increasing number of cases and hospital admissions.
French health authorities reported that 772 clusters were examined, an increase of 86 in the past 24 hours.
In the past week, 2,432 people have been hospitalized with the virus, including 41
7 in intensive care.
Read more
The death toll in hospitals and nursing homes rose from 17 to 30,910 on the last day.
In response to Thursday's record rise in new cases, the French government outlined further measures to prevent a return to the general blockade put in place earlier this year.
France's testing capacity rose to 1 million per week last week, compared to only a fraction of that at the start of the pandemic. It has carried out less than 6 million tests in total since the first hit of the virus.
Mr Castex, who came out of isolation on Saturday after coming into contact with someone infected with the virus, said the pandemic in France "is obviously getting worse".
"For the first time in several weeks, we are seeing a substantial increase in the number of people hospitalized," said Castex on Friday.
And in Marseille, which has emerged as a hot spot, doctors sounded the alarm after all 70 intensive care beds in the city and surrounding Bouches-du-Rhone region were occupied on Tuesday.
The number of virus patients in intensive care in the region has doubled in the past 10 days and now exceeds 100.
Hospitals in the region are reactivating emergency measures put in place when the pandemic first struck and, having run out of space, have been forced to put people in units intended for virus-free patients.
"In March, April and May we were able to absorb the wave of the epidemic by abandoning other hospital care activities, and today the challenge is to be able to continue to treat every other patient while being able to deal with the epidemic," he said. Laveran Military Training Hospital told The Associated Press, describing it as a two-pronged battle.
Overall, French authorities say they are better prepared this time than in March, when infections skyrocketed and the military stepped in to transport patients and build France's first peacetime field hospital.
The rise in cases in France has been the subject of cross-Channel comparisons, where the UK is seeing daily infections at a level not seen since May.
England's chief medical officer Chris Whitty pointed to France as an example not to follow as it provided further justification for Boris Johnson's new "rule of six" restrictions.
Coronavirus cases are increasing "rapidly" among young people, warns Chris Whitty
Aided by graphs showing case numbers in the UK, France, Spain and Belgium, Professor Whitty said: 'What you can see is that we are following a pattern that is extremely similar to that followed by France, and in France the rate has continued to rise The same is true in Spain.
"But in Belgium the same kind of graph was happening, but then they took decisive action and at that point the rates stabilized and started to go down.
"It is a clear indication that if we act quickly and decisively when these changes occur, there is a good chance of bringing rates back under control."
His comments were echoed by Sir Mark Walport, Sage's former chief science advisor, when he warned that the UK was "on the verge of losing control" of the virus.
"You just have to look across the Channel to see what's happening in France, what's happening in Spain," he told BBC Radio 4. Today program:
He added: "The short answer is that the only way to stop the spread of this infection is to reduce the number of people we all come into contact with, which reduces the risk."
"It's a great balance, it's very important to get young people back to school, kids back to university, but it means we will have to keep our contacts in other areas."
The professor said he was "definitely" still working from home, adding, "Where people can work from home, there is an extremely strong argument that they should do it."
Additional reporting by agencies
Source link