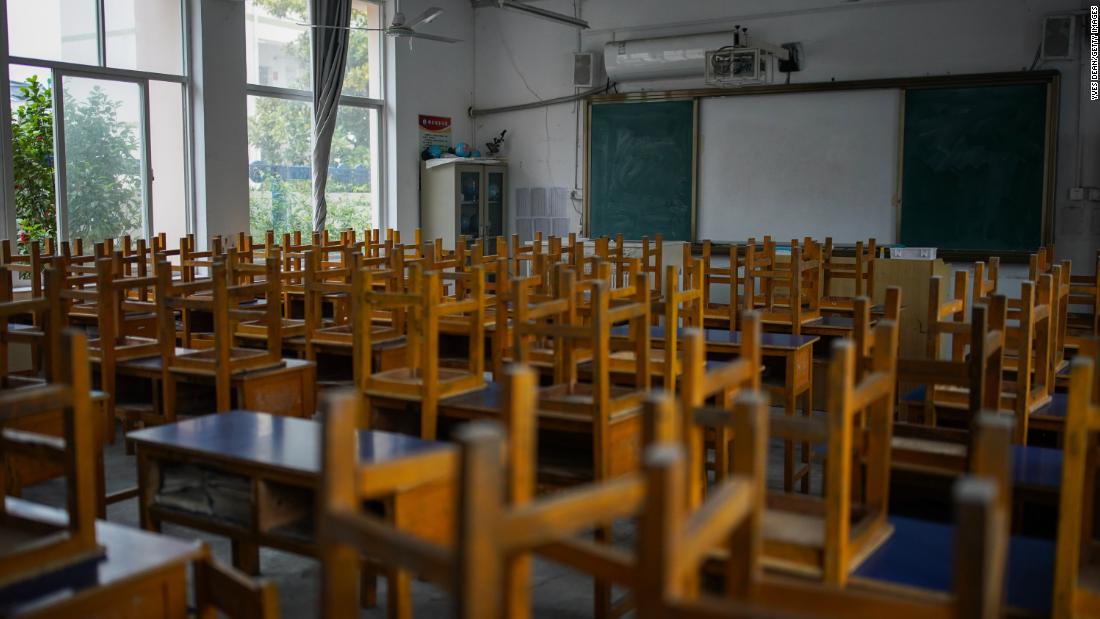 When Covid-19 hit China in January, the Ministry of Education postponed the start of the spring semester to the end of April. This closure separated the children from their friends and their wider community network and appears to have impacted their mental well-being.
The study, published Friday in the JAMA Network Open, compared reports on mental health problems in November – before the pandemic began – to mid-May, two weeks into the new spring semester when schools reopened.
Researchers from Anhui Medical University obtained survey results for 1,241 students attending grades four through eight and middle school. The children lived in Chizhou, Anhui province, an area that did not have a large number of Covid-1
9 cases.
Nearly 25% of students reported depressive symptoms in May, while only about 19% did so in November. Suicide attempts more than doubled – to 6.4% in May compared to 3% who attempted suicide in November. There were no similar increases in reports of children who reported feeling increased anxiety.
The researchers hope that school leaders will use this research to prepare the mental health services needed to help children returning to school after blockages.
This study is consistent with others who have found that forced social isolation can cause mental health problems for children.
The benefits of in-person school outweigh the risks of viruses
As states grappled with how to safely reopen schools earlier this year, the American Academy of Pediatrics pushed students to be physically present in classrooms rather than continuing distance learning for their sake. Welfare.
The group, which represents and leads pediatricians across the country, updated its recommendations for back to school in June to say that evidence shows that the academic, mental and physical benefits of learning in person outweigh the risks of coronavirus. .
"The AAP strongly argues that all policy considerations for the next school year should begin with the goal of having students physically present at school," the group said on its website.
"" The importance of in-person learning is well documented and there is already evidence of the negative impacts on children due to school closures in the spring of 2020. The long period away from school and the consequent disruption of isolation support services, making it difficult for schools to identify and address major learning deficits, as well as physical or sexual abuse of children and adolescents, substance use, depression and suicidal ideation, "the group said.
As it was when the schools reopened
This revision of the traditional school day became a reality in August, when schools in Georgia, Mississippi, Tennessee and Indiana opened their doors for the first time since the coronavirus pandemic abruptly closed classrooms in the United States, all while the virus remained largely uncontrolled.
More students and teachers tested positive for Covid-19, some schools were forced to suddenly change plans, while others opted to delay the start of the school year by giving educators more time to prepare for lessons in person.
"What we do know is that kids have a hard time distancing themselves socially. And we can't put a whole group of them in a class with a teacher right now," Kentucky Governor Andy Beshear said in an August briefing announcing a delay.
"Other states that have tried to open this new school year are now closing. We don't want to start and stop. It may be more difficult for our children," she said.
Now, many have embraced virtual learning, which has posed a number of challenges.
Schools across the country have reported system outages, cyber attacks, and other problems that prompted some districts to postpone the first day of class.
If you are experiencing a suicide crisis, you can call the National Suicide Prevention Lifeline at 800-273-8255 or text the crisis text line by texting HOME at 741741 for help.
Nicole Chavez, Christina Maxouris and Alicia Lee of CNN contributed to this story.
Source link