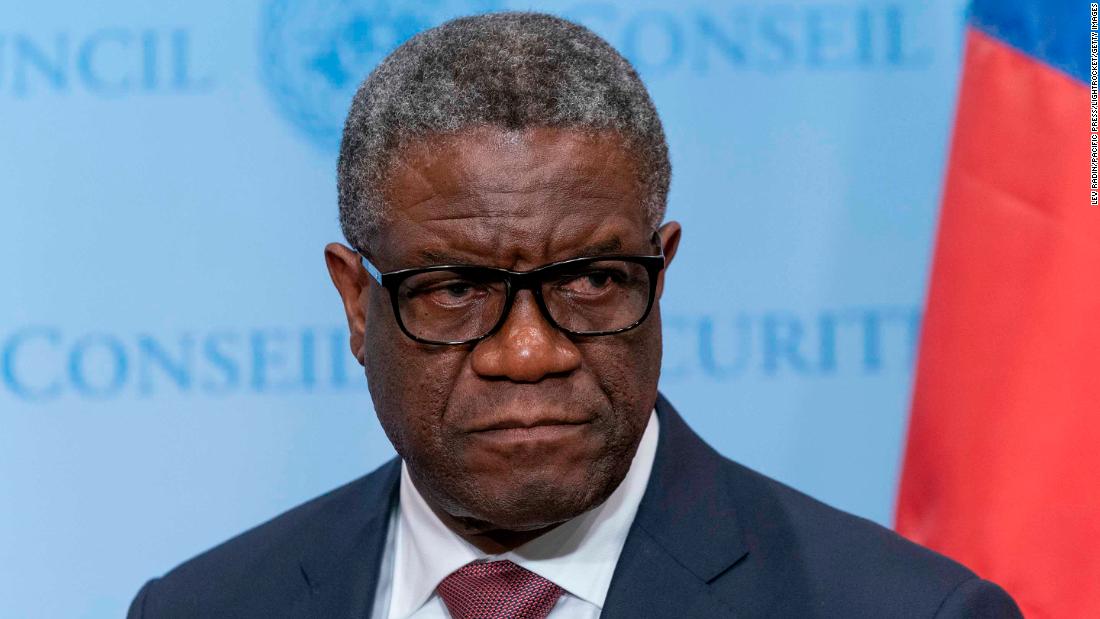 The career of the gynecologist has spanned more than 20 years, during which time he has treated tens of thousands of rape victims.
He was joint winner of the Nobel Peace Prize in 2018 alongside Nadia Murad for their efforts to end the use of sexual violence as a weapon of war and armed conflict.
The UN said recent threats against Dr. Mukwege via social media and in telephone calls to him and his family "followed his condemnation of the continuing killings of civilians in eastern DRC and his renewed demands for accountability for violations and abuses of human rights ".
His family and colleagues from the Panzi hospital, where he works, were also targeted.
United Nations High Commissioner for Human Rights Michelle Bachelet also recently warned that Mukwege is "at serious risk"
;.
"We welcome the redistribution of items from #MONUSCO to #Panzi this morning to ensure the safety of our patients and staff," said Mukwege
in a tweet
. "Thanks to #UN for providing our protection."
Mukwege has received death threats in the past and survived a major assassination attempt in October 2012, when gunmen entered his home, shooting and killing his bodyguard.
The attempt came several weeks after a speech at the United Nations where he denounced the 16-year conflict in the Democratic Republic of the Congo and called for justice.
Mukwege has often called for the implementation of recommendations from a 2010 UN investigation which described more than 600 alleged violent incidents that occurred in the country between 1993 and 2003.
This 550-page report entitled "DRC: Mapping Human Rights Violations 1993-2003" specifically points to the role of Rwandan troops and delegates in interwar crimes in Congo, which killed millions.
Rwanda President Paul Kagame on Sunday denied these allegations in a national television interview and described the report as "nonsense".
"People start their narration at the moment of their choice. They choose to choose a point in time and start from there … the very long history of Rwanda or the DRC. People talk about cartographic reports, I don't know what doesn't make sense . "
The New Times, a Rwandan newspaper described by Human Rights Watch (HRW) as state-owned, ran an article in August claiming the UN report was "a bad job."
A new wave of attacks
Since July, Mukwege has
reported
a new wave of attacks in the provinces of South Kivu and Ituri by foreign troops and rebels.
Criminal gangs have brutally raped dozens of women and girls in parts of the DRC over the past three years, according to HRW, which Mukwege also retweeted.
"The hospital where Dr. Mukwege works must also be protected," Amnesty International's deputy regional director for East Africa said on 4 September.
"In addition to hundreds of doctors, nurses and support staff who are concerned about their safety, the hospital contains thousands of medical records belonging to rape survivors, for which Dr. Mukwege has been a longtime advocate."