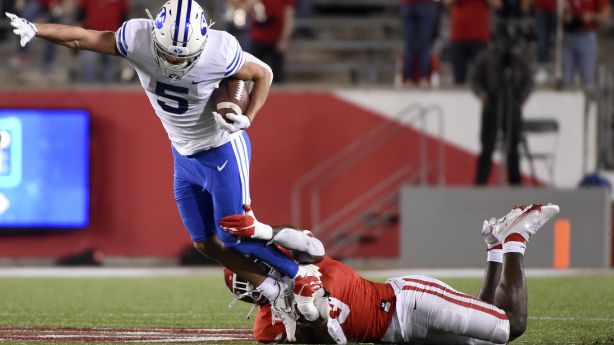 SALT LAKE CITY – Dax Milne took nine passes for 184 yards and three touchdowns, the third time in four games the junior wide receiver eclipsed the 100-yard reception mark.
No one was greater, perhaps, than his finishing touch.
Milne's third touchdown, an 18-yarder from roommate Zach Wilson with 3:05 left in the fourth quarter, helped number 14 BYU avoid Houston, 43-26, Friday night at TDECU Stadium in Houston, Texas.
Wilson completed 25 passes of 35 for 400 yards and four touchdowns, and also ran for 40 yards on nine rushes. Tyler Allgeier ran for 25 yards and a touchdown, and Lopini Katoa added another score for the Cougars, who improved to 5-0 for the first time since 2008.
Faced with a BYU defense lacking its first two tackles on toe attacks Khyiris Tonga (illness) and Lorenzo Fauatea (end-of-season leg injury), Houston amassed 438 yards of attack, including 310 yards and two in-air touchdowns from quarterback of the Cougars Clayton Tune.
"I feel like the statement we made is that we are a great team," Wilson said. "Average teams are inconsistent and fail to finish games. But there wasn't a moment of this tonight. Every single play, every drive, we knew we could perform in the next round. The boys had the same mindset, even when adversity strikes.
"I'm so proud of these guys for reacting."
Wilson, whose 400 yards is his career high, has thrown at least two touchdown passes in five straight games, equaling BYU's longest streak since Christian Stewart in 2014, according to ESPN statistics and information. He also designed an attack to score 40 or more points in four of the Cougars' first five games, a feat not seen in Provo since 2001.
In addition to Stewart, he's making comparisons to BYU quarterbacks of yore: Steve Young's swaggering attitude, Jim McMahon's off-screen charisma, and Robbie Bosco's leadership, to name a few. But on Saturday night, he took BYU to its best start since Max Hall – and this, perhaps, is the comparison he'd most appreciate. Because it's about winning, and so is Wilson.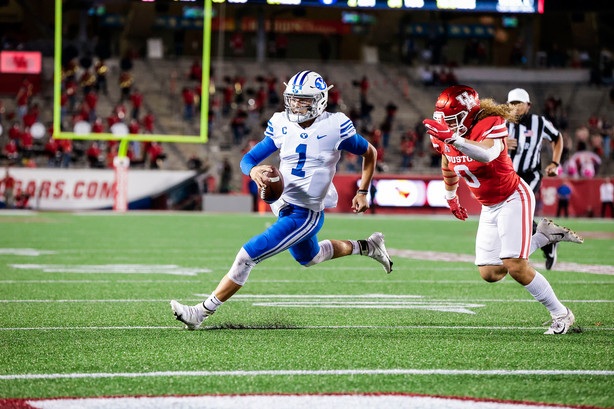 It didn't take long to find his favorite target, just one play, 19 seconds and 78 yards before putting 7 points on the scoreboard through Milne. The former Bingham High champion swept a defender away, caught Wilson's career completion on the sideline close behind him and entered the end zone for 7-3.
"That guy is a director," Wilson said of Milne. "I love that boy. He's one of my best friends, I'm so happy for him. … I believed in that boy from day one. I always knew he would be a great player for us."
If it sounded like a play that the two have practiced over and over, on the playground or on the driving range, maybe that's because they've been doing it since they grew up in the same southern corner of the Salt Lake Valley.
There is more to come, though.
"Just as he has grown so far, I think he keeps getting stronger and stronger," said Milne. "It's fun to be a part of."
Wilson completed his first three passes for 128 yards, then dove for a 4-yard run that set Katoa's dive on the goal line for a 14-3 lead that BYU knocked out in the first quarter. Scorer Romney was hampered, so he left the game completely with a hamstring injury after only taking one hold, so Wilson had to rely on his # 1 boyfriend in many situations.
No problem.
"Those kids have known each other since they were kids," BYU coach Kalani Sitake said. "I think they're just used to being with each other … You can see there's a connection and a rhythm they have with each other."
Tune brought out his cards in the second quarter, completing 12 of 13 passes – including eight in a row on a drive – for back-to-back touchdown shots that put Houston back at 17-14, with 4:42 to go. in the middle.
After falling 11 early, Houston beat the visiting Cougars, 323-233, in the first half to take a 20-14 lead at half time. The setup completed 15 of 18 passes for 234 yards and two scores before half-time for the host Cougars.
He completed a 16-game, 98-yard drive at 6:48 with a quick 5-yard touchdown. Though the 2-point conversion pass was intercepted by George Udo, the damage was done – not just in a 26-14 lead, but after scoring nearly half of the third quarter on the clock.
Wilson finished a five-game 75-yard drive with a 2-yard touchdown to Milne with 53 seconds left. On the next touch, Sitake played with an on-game kick and Lone Peak product Talmage Gunther made a full recovery to secure another drive for the attack.
The visiting Cougars bet on that drive, but Houston returned the ball with a shin and a 23-yard field, taking Wilson's 8-yard shovel pass to Masen Wake (and Allgeier's 2-point conversion) for regain the lead, 29-26, 10 minutes from the end.
The Cougars were never again at a disadvantage, scoring the last 29 points of the game with Milne's third touchdown and Allgeier's 18-yard run in the end zone with just under two minutes to go.
"That was great," said Milne. "I think Houston thought we were going to play it safe, run the ball and try to make a basket. So when I heard the play call, I got really excited; I knew it was a touchdown game, and I just had to do my job. . I'm just super happy with the joke and Zach did their job, and we could put the nail in the coffin. "
Score summary
First quarter
9:53 – HOU: Witherspoon's field goal 27
9:34 am – BYU: Dax Milne, 78 Zach Wilson pass (Oldroyd kick)
4:42 – BYU: Lopini Katoa 1 run (Oldroyd kick)
Second quarter
9:01 am – HOU: Christian Trahan, 20 passes by Clayton Tune (Witherspoon kick)
4:42 – HOU: Nathaniel Dell, 5 passes from Tune (Witherspoon kick)
0:00 – HOU: Field goal Witherspoon 49
Half time – Houston 20, BYU 14
Third quarter
3:05 – HOU: Tune 5 run (pass failed)
0:56 – BYU: Milne, Wilson 2-yard pass (Oldroyd kick)
Fourth quarter
10:35 – BYU: Masen Wake, 8 Wilson shovel-pass (Allgeier pass)
03:06 – BYU: Milne, 18 passes from Wilson (Oldroyd kick)
01:40 – BYU: Tyler Allgeier, 14 runs (Oldroyd kick)
Final – BYU 43, Houston 26
×
Photos
Related links
Other stories that may interest you
Source link