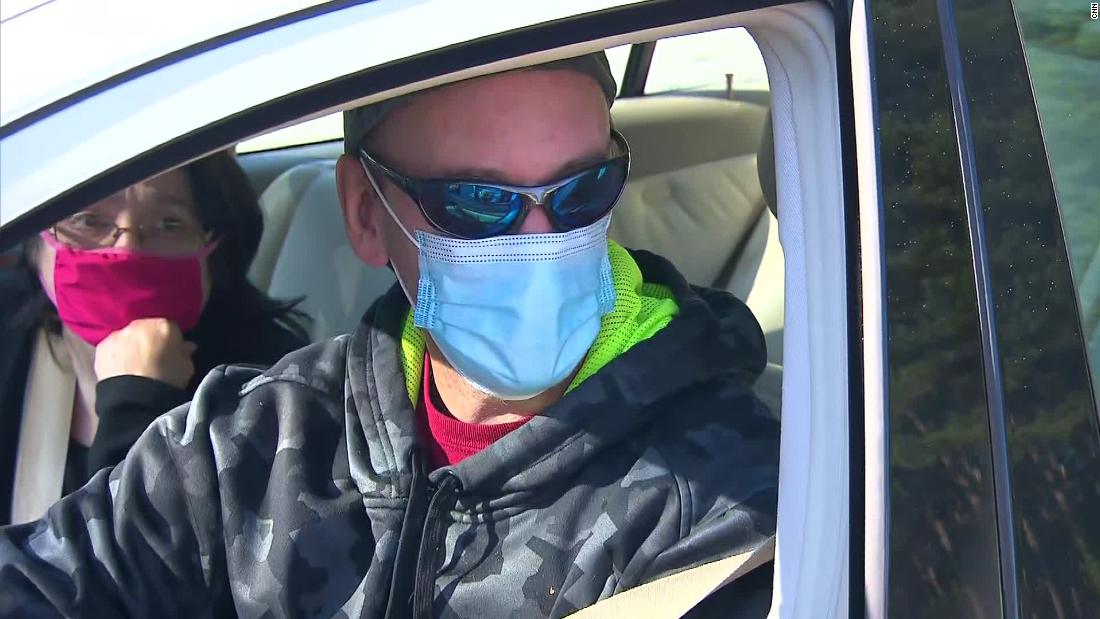 Delores Rich, who relies on her retirement income, arrived for the food collection at 7 am – three hours before it started – to secure a place in line.
He said he had trouble shopping during the pandemic. His favorite things to cook are Florentine steaks and oxtail, but he said every little thing helps.
"Whatever I receive, I will be grateful and blessed for it," she said.
Rich was among 700 people who came to this Dekalb County food campaign on Saturday in need of food for themselves and their loved ones. In this and two other places in the county, a total of 2,500 people received a 20-pound box of fruit and vegetables and a three-pound package of beef, according to the county.
The push for food is a microcosm of the American economy in trouble as the Covid-1
9 pandemic has infected more than 7 million people, killed over 200,000 and disrupted the lives of all Americans.
Millions of workers who had been laid off earlier during the pandemic have returned to work, but many of those temporary layoffs have become permanent as a stimulus and a federal unemployment supplement has expired.
In Georgia, 22% of businesses did not reopen in August, including nearly a quarter of all restaurants, 40% of bars, 20% of arts and entertainment and 19% of health and beauty companies, according to the Georgia Chamber of Commerce.
The pandemic has placed particular emphasis on the nation's food banks. As of June, food banks nationwide were serving nearly 60 percent more customers on average than last year, according to Feeding America, a network of 200 food banks in the United States. About four out of 10 are new customers.
Scenes from the collection of food
These broader economic struggles could be seen in Dekalb County on Saturday. Michael Thurmond, CEO of Dekalb County, said he hasn't seen so many people turn up for a food harvest since the pandemic began.
"Problem number one is … (that) the initial relief, federal relief has expired. People have lost an extra $ 600 on their unemployment insurance," he said.
Bill Webber, who builds fences and does housing for a living, said his business was hit hard by the pandemic's economic toll.
"Fewer customers (and) fewer people planning to do the work they had planned," he said. "They shrink and call back and say, 'Hey, we won't be able to do that now.' Which I understand. I'm not mad at people. "
He said he hadn't been to a food harvest before the pandemic. He plans to share his box of food with others who have not been able to come.
"I know I'm not alone, and I know other people out there – my whole family has been hit hard," he said.
Tania Larkins similarly said she hadn't been to a food harvest before the pandemic.
"I'm sorry, because I never had to do this until the pandemic," Larkins said. "I've always been able to keep food on the table."
She worked in childcare and her husband drives a part-time school bus, a job now less in demand with many remote teaching school districts.
Larkins said he would misjudge these drives in the past.
"I would have judged it as, 'It's for the poor' or something. No, it's not. No, it's not. It's for people in need at this point," he said. "It's very humiliating."
Georgian Agriculture Commissioner Gary Black said business was tough even for the food bank's suppliers.
"We are supplementing fresh fruits and vegetables with protein, but it also comes from a local Atlanta company that needed the business," he said.
With Black alongside him, Thurmond, CEO of Dekalb County, said the food bank was a bipartisan effort.
"He is a Republican and I am a Democrat. But Hunger is not affiliated with any party. I hope you have noticed the diversity of the people who came here today. Black people, white people, Asian, Hispanic, Latino," he said. . "Food insecurity has an impact on the whole community".
Source link