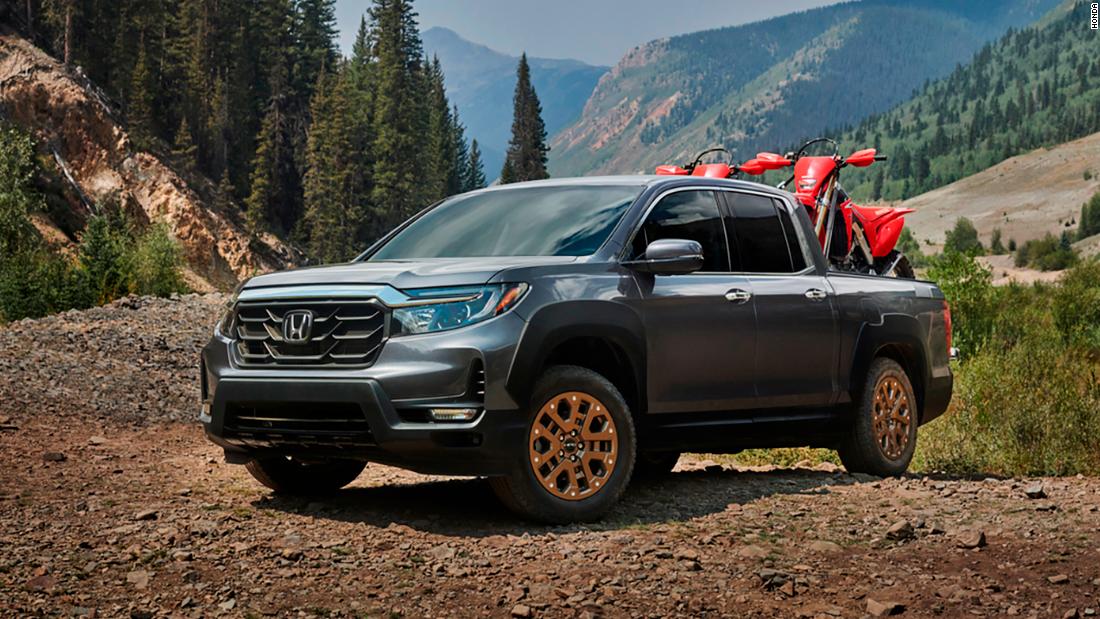 And Honda has the Ridgeline.
OK, maybe the Ridgeline isn't the most threatening truck in the world. It has more of the personality – and engineering – of a reinforced crossover SUV with a cargo bed.
Honda is getting tired of always being the good guy, though. So, for starters, the company just unveiled a redesigned Ridgeline with a bigger and taller grille. Soon, Honda Pilot and Passport will have an equally more aggressive look. (The CR-V, America's second best-selling SUV after the Toyota Rav4, will retain its friendly and accessible design.)
Even that weird "Bing-bong!" The doorbell tone that precedes each Honda TV commercial gets a remix as part of a new advertising campaign. A new commercial shows Honda SUVs and trucks driving up rock-covered mountain roads and, right at the start, there̵
7;s a "Bump-bump" bass drum riff that's recognizable as a version of the Honda bell sound. It's more like someone knocking on the door instead.
After that, hear the deep hoarse voice of former WWE pro wrestler John Cena telling you that if you let yourself think that Honda trucks and SUVs were delicate machines, "you would be wrong."
The commercial features riders, passports and ridgelines on mostly gravel-covered dirt paths. They don't climb boulders in the roadless desert or pull themselves out of deep mud by the plank.
Nobody, not even Honda, claims these vehicles are ready to take on a truly brutal lunar landscape of the kind that Jeep brags about or that Ford says its new Bronco can handle.
"We're not talking about the Rubicon Trail or anything that extreme," said Jay Joseph, chief of marketing for the American Honda Motor Company, referring to the California location where Jeep famously tested its SUVs, "but certainly going on fire roads or dirt roads or reach a campsite. Our vehicles are much more capable than one might expect at first glance. "
In other words, if you want to go 4WD for the sheer thrill of seeing what you can go through – or through – without getting stuck, then maybe you should go ahead and take a jeep. But if you want to do things outdoors like hiking, dirt biking, or camping that would take you on unpaved trails, these Honda trucks and SUVs are up to par. That's the message that Honda thinks people may be missing as they use their riders and passports to take their families around town and run errands.
This is all part of an attempt by Honda to sell more SUVs and small trucks in a market that seems insatiably hungry for them.
Overall in the US, midsize SUVs and pickups accounted for more than two-thirds of all passenger vehicle sales last year, but only just over half of Honda's US sales. Ridgeline, in particular, had a much smaller market share than competitors from Toyota, Ford and General Motors, according to data from the automotive website KBB.com. (The comparison isn't perfect, Honda points out, since competitors offer lower-priced disassembled trucks that Honda doesn't.)
However, Honda has had 10 consecutive years of growing truck and SUV sales in the United States, Joseph said. But they represented a smaller portion of Honda's sales in the US market overall. Part of this, of course, is because Honda only sells two of the most popular sedans in America, the Civic and the Accord. Last year, the Honda Civic was the best-selling car in America that wasn't an SUV, according to Edmunds.com.
The fact that other automakers have largely – or even completely – given up on sedans has helped Honda, but it can't go on forever, Joseph said.
"This gives us some short-term opportunities," he said, "but the long-term trend is that people tend to be more comfortable in light commercial vehicles, whether it's the packaging or the dream of going anywhere capacity and utility".
So Honda is making that dream come true. Or at least how much a Honda Ridgeline can handle which, according to Honda, is quite difficult.
Source link