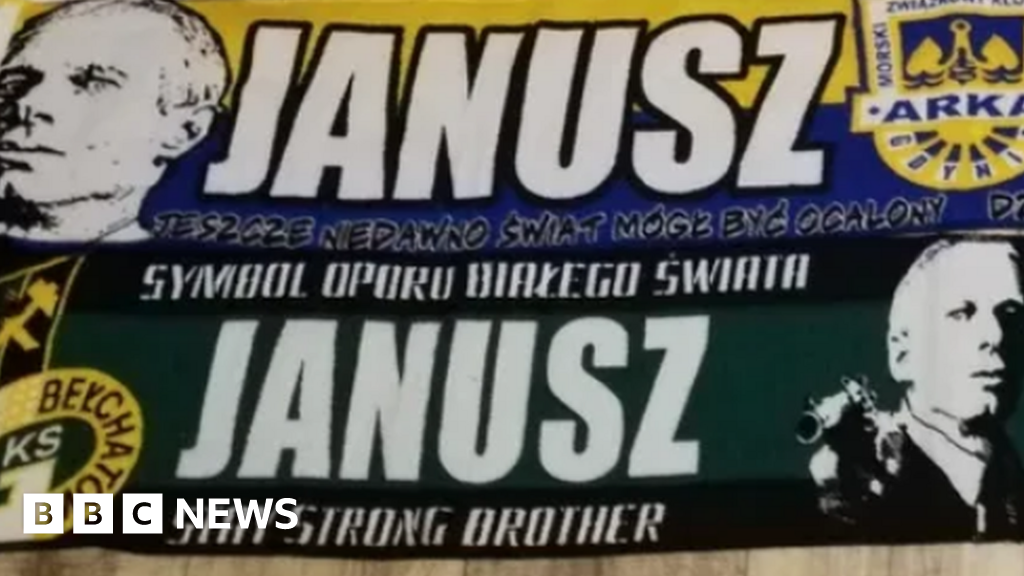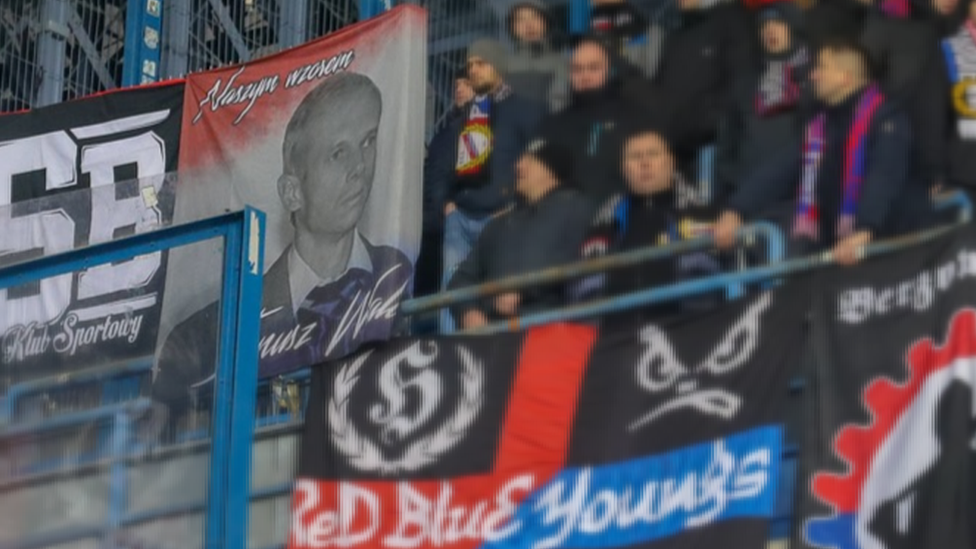 Huge banners with the portrait of Janusz Walus can often be seen draped around football stadiums in Poland calling for the freedom of a man serving a life sentence in South Africa for the 1993 murder of famed anti-apartheid leader Chris Hani.
Many feared that the killing of Hani could provoke a race war, reaching a pivotal point in talks for the white minority to hand over power, which ultimately happened when Nelson Mandela became president the following year after the first all-out elections. breeds of the country.
It is not clear how Walus became a symbol for young Polish nationalists and fascists, but about 10 years ago, he started receiving letters from supporters in Poland, journalist Cezary Lazarewicz, who interviewed Walus for his book, told the BBC. .
"They wrote to him that they admired him because he tried to stop communism in South Africa, which is the great hope of the white race," he said.
In the photos and videos posted online some football fans in the stands are wearing scarves with the hashtag #StayStrongBrother printed.
It is inspired by a song dedicated to him that includes the lyrics: "Few men could ever take the step you took to enter the path of glory and victory".
"Fans are not demanding Walus' release on humanitarian grounds, but they are glorifying what he did and the ideology," Dr Rafal Pankowski, of Never Again, an anti-racist group, told the BBC.
The song, sung in English, is "a good example of the internationalization of contemporary white nationalism," he adds.
Leader of the South African Communist Party
Chief of Staff of uMkhonto we Sizwe, the armed wing of the African National Congress (ANC), ally of the SACP
He launched attacks on the apartheid government
Seen as a potential successor to Nelson Mandela
Murdered on April 10, 1993
Walus, a Polish immigrant who had acquired South African citizenship, and his co-defendant Clive Derby-Lewis, were sentenced to death shortly after Hani's murder, but the sentence was commuted to life imprisonment after South Africa abolished the sentence. of death.
Both appealed for amnesty during the Truth and Reconciliation Commission (TRC) in 1997, with Walus claiming he was pushed by political and anti-communist motives to kill Hani, who was then the general secretary of the South African Communist Party (SACP). ), and also a leading figure in the armed wing of the African National Congress. The two parties were close allies in the struggle against apartheid.
Their appeal was rejected.
Derby-Lewis, who supplied the gun used to kill Hani, died in 2016, a year after he was granted parole on health grounds.
Walus, who is serving a life sentence in a high-security prison in Pretoria, continues to find fame online.
Even more shocking, the range of products supporting and celebrating him as a "political prisoner" was sold on a South African-owned online marketplace website.
Removal is not enough
The BBC confirmed that scarves, a T-shirt and a sticker with Janusz Walus's name and image were being sold on the OLX Polish website. These items have since been removed.
OLX is owned by technology investment firm Prosus, a subsidiarity of South African global tech giant Naspers.
The Never Again association has reported the sale of Walus items and other "racist" items to OLX.
"Promoting fascism or racial hatred is prohibited under Polish law, but the implementation of the law is notoriously weak," said Dr. Pankowski.
OLX Poland's regulations also prohibit the sale of items containing "hate speech based on national, ethnic, racial, religious or non-denominational status differences."
In a statement to the BBC, Naspers said that "right-wing elements in Poland have violated the terms of use of the OLX Poland platform. Although they have only managed to do so to a very limited extent, any content that incites violence, racism, or discrimination is abominable and contrary to the values ​​and beliefs of our organization ".
"Our systems use the technology to automatically identify and remove listings that violate OLX's policies," spokeswoman Shamiela Letsoalo said.
Walus items weren't listed under his name and so the system ignored them, the statement said, adding that they were "quickly removed" after the team was notified.
But that's not enough for SACP spokesman Alex Mashilo, who told the BBC that Naspers had to "take more action than they said for convenience."
He added that the party "will examine the matter further and decide on the next steps to be taken".
"Unrepentant"
One explanation for the increased visibility of Walus' case is a series of court and government decisions that resulted in a 2016 decision to free him on parole.
Hani's family and the SACP had opposed the move even after South African authorities stripped Walus of his citizenship in 2017, clearing the way for him to be deported to Poland if he was released from prison.
In March, the justice ministry finally ruled out his release.
Walus is "unrepentant, except for his claims of being seen as conforming to parole," Mashilo said.
"The blameless killer who nearly plunged South Africa into a civil war with far-reaching implications is not to be paroled. At present, the truth and all the circumstances surrounding Hani's assassination have not been revealed." Mashilo added. .
He said questions remain about the gun used to kill Hani.
"The murder weapon with which the man pulled the trigger was taken from the military armory. Who took it, who passed his hands to … [get to] his destination, Walus, and his murder of Hani? ", churches.
The last time most South Africans saw Walus was during TRC sessions, answering questions about Hani's murder.
At one point during the hearings he stuck his head in a slightly titled position and cast a blank but burning stare across the room – it's a look like this that can be seen in scarves and banners at Polish football stadiums.
Last year an audio message from Walus was uploaded to YouTube and Facebook, in which he thanked his fans for increasing legal fees and purchasing sports equipment.
When Lazarewicz visited Walus two years ago for an interview, he found a man who, 25 years after his incarceration, was relentless in his convictions.
"Four years ago Walus met Hani's daughter Lindiwe in prison. He told her [that] when he lost his father [in 1997] then he realized that Chris Hani was not only a Communist, but he was also a father and husband, "Lazarewicz said.
"Walus told me he was very sorry for killing Lindiwe's father. But he never regretted it. [killing a] communist leader. He told me there was a war in South Africa in 1993 and he felt like a soldier … he still believes in the apartheid system and that blacks and whites should live apart, "he added.
This may explain why Walus has become an icon of white supremacist groups.
So even as his supporters demand his freedom in football matches in Poland, it is their common allegiance to a racist ideology that will block any possibility of parole and lock him in jail for the rest of his life.
Racism

South Africa
Poland
Source link