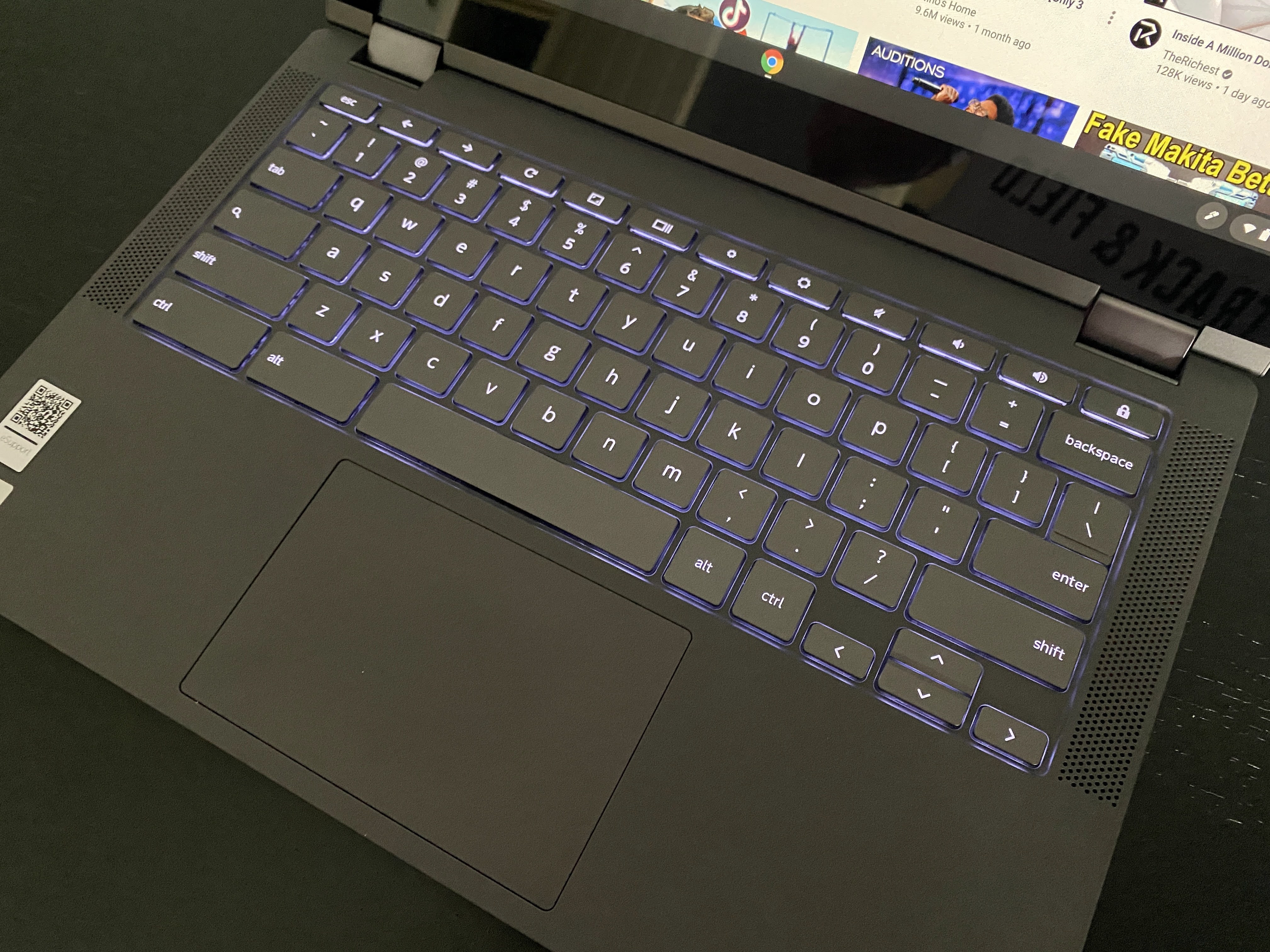 Last week I shared the initial impressions of the $ 250 Lenovo IdeaPad 3 Chromebook. My full review is almost complete on that device, but I decided to take a break from it, just to open the Lenovo Flex 5 Chromebook package. to use it full time once my IdeaPad 3 review comes shortly, and after a quick repetition with this mid-range 2 in 1
device, I really can't wait.
The Lenovo Flex 5 Chromebook almost falls into a strange category.
Generally, I consider that there are three distinct markets for Chromebook devices: entry-level, mid-range and high-end. And I have a general price range in mind for each of them: less than around $ 350 for the entry-entry level and above $ 700 for high-end Chromebooks. At $ 409.99, the Lenovo Flex 5 Chromebook borders just above that entry-level price range, but this isn't an entry-level device.
This is excellent value for money considering the specs:
processor
Dual-core Intel Core i3-10110U processor (2.1 GHz / 4.1 GHz)
GPU
Integrated Intel UHD graphics
Screen
13.3-inch 1920 x 1080 IPS touchscreen,
16: 9 aspect ratio, 250 nits brightness
Memory
4 GB DDR4-2600MHz memory
storage
64 GB eMMC 5.1,
microSD card slot for expansion
Connectivity
WiFi6 (802.11ax, 2 × 2 MIMO), Bluetooth 5.0
Entrance
Backlit splash-resistant keyboard, USI stylus support (optional),
720p webcam with physical privacy shutter
Ports
1 USB type A, 2 USB type C,
combined headphone / microphone jack
Battery
51 WHr, expected execution time up to 10 hours
Weight
2.97 pounds
Software
Automatic Chrome OS updates via: TBD
There are certainly mid-range Chromebooks that have more robust specifications. Some come with 8 GB of storage, for example, while with Flex 5. you only get half of it here. Maybe you can also get a brighter screen.
But those devices typically cost north of $ 500 unless they're on sale. At first glance, I think this fits exactly between low and mid-range devices, which are ideal for those on a budget but want to have some nice features to have.
One of them is a good display and I like the one on the Flex 5 so far. It is crisp, has good color representation and has good viewing angles all around. The frames are not too big either, except the bottom one. In a nutshell, this is a nice 1080p panel for the price.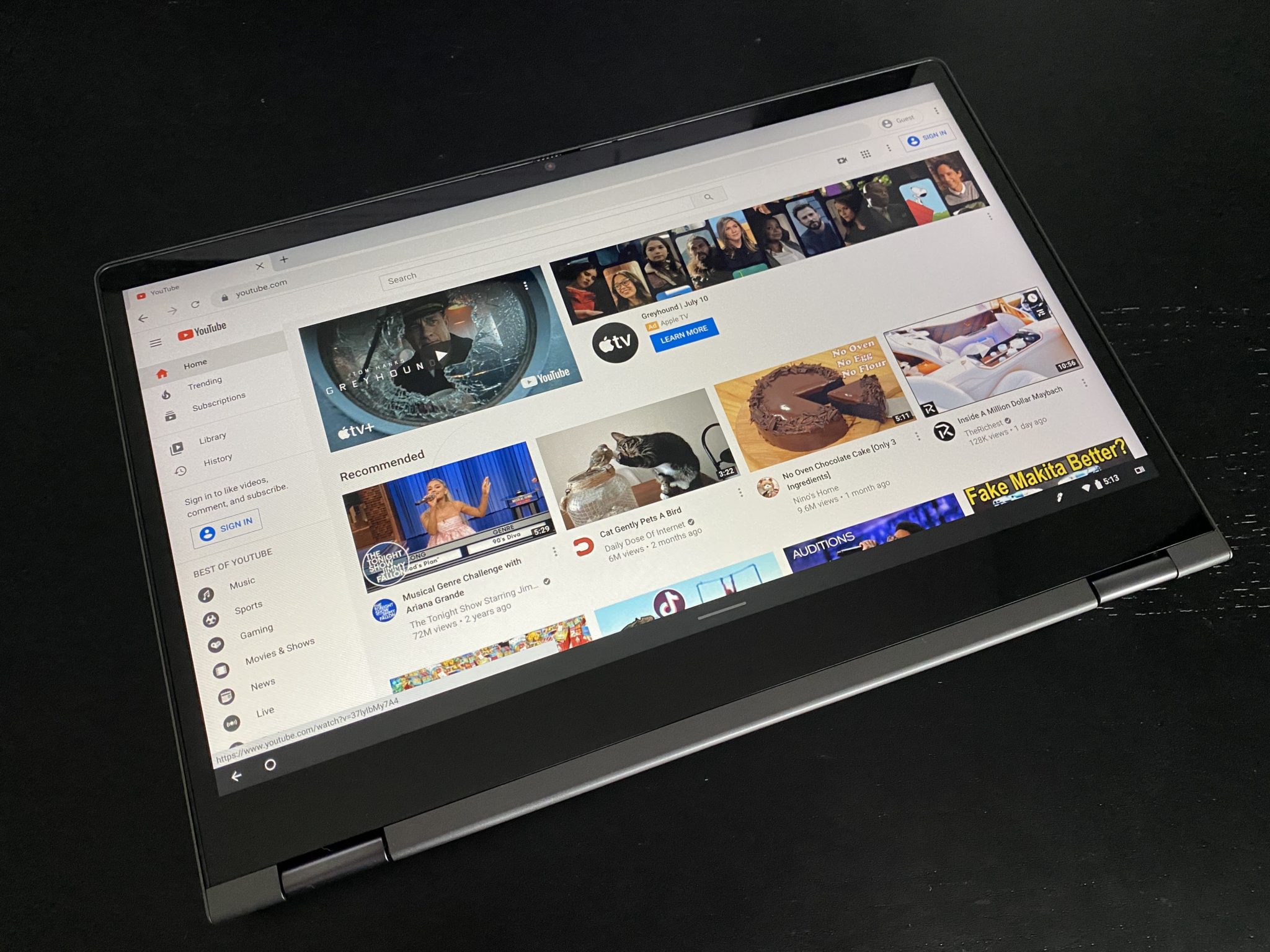 And if you want to use that display in presentation or tablet mode, you can do it: this display folds 360 degrees, hence the name "Flex".
As we talk about output, it's nice to see the speaker grills on both sides of the keyboard. Unfortunately, with 2 W of power per speaker, they only seem OK at first listen.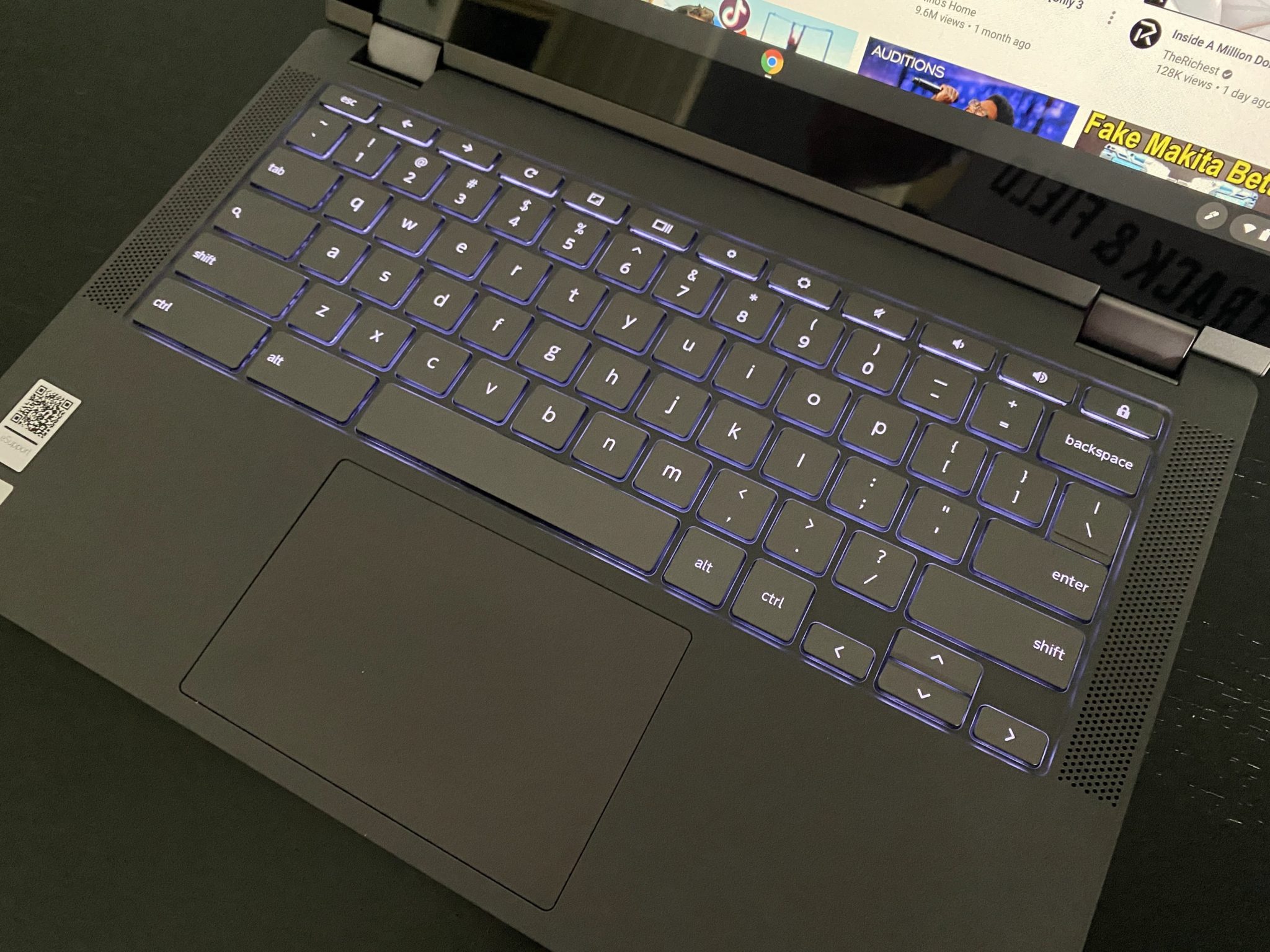 From an input perspective, the island-style backlit keyboard is nice. It is also spill-proof. I'll have to do some long-term typing for my full review, but I'm a fan of Lenovo keyboards in general. I would be surprised if this disappointed me.
The trackpad is well sized and made of Mylar, not glass. So far, this doesn't seem to be a problem for me in terms of responsiveness. The entire frame is made of plastic while the display lid is made of aluminum. It doesn't seem "cheap" at all. It looks like a plot smoke on plastic, which I like.
I haven't tested the 720p webcam yet but I love, I love, I love physical privacy coverage. Basically, you slide it when you want to lock the camera and slide it back when it's time for a video call. Being a physical coverage you don't have to worry about an electronic feature you might not trust.
I also like the positioning of the doors.
There is a USB Type-C on each side which is good for charging. Type A port, headphone jack and memory card slot on the left side, while on the right side there are the power button and the volume rocker. These don't stick out enough for my taste; they are almost flush with the frame. I really can't find the power button without looking.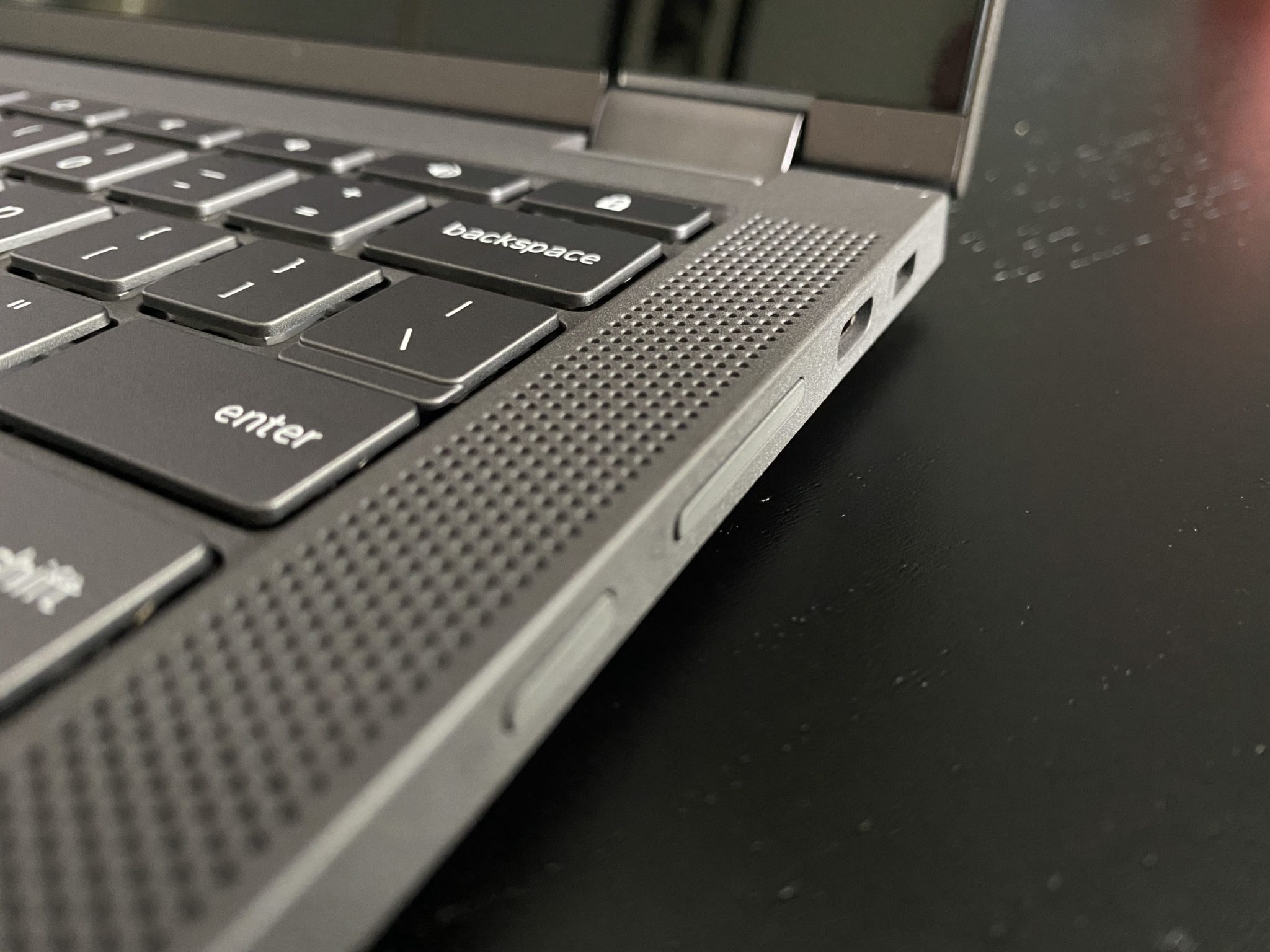 And another negative, at least for me: Lenovo is using the same large 45W USB-C power supply for Flex 5 that it uses for the IdeaPad 3 Chromebook. Smaller would be better in my opinion.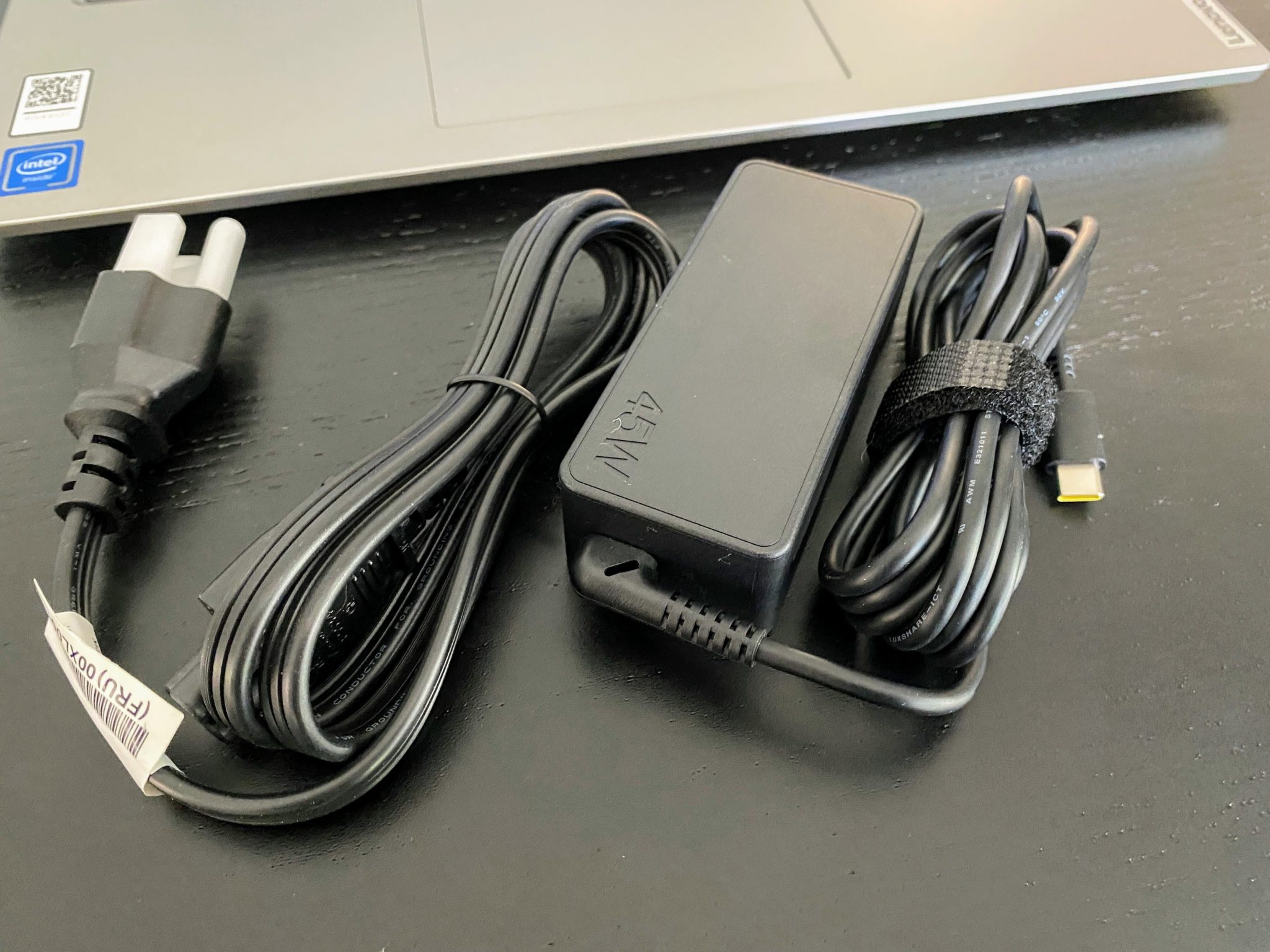 Getting a 10th generation Intel Core i3 inside for around $ 400 is a good deal, considering you're also getting a nice display, stylus support and more. How well could it work from a performance perspective? Here are the guidelines for those interested in those numbers. All tests were performed after a fresh start and in Guest mode:
| | |
| --- | --- |
| Test | Point |
| Octane 2.0 | 35553 |
| Speedometer 2.0 | 102 |
| Basemark 3.0 | 544.28 |
| JetStream 2.0 | 97.2 |
I don't use benchmarks for my buying decisions, but for what it's worth, the $ 849 Pixelbook Go I reviewed last year scored lower in some of the same tests, which is interesting. I'm challenging it up to the Go with an eighth generation chipset while this Lenovo unit has a more recent tenth generation silicon inside. Also, the core clock speed of the Core i5 in the Go is 1.3 GHz, while the Core i3 that I'm using now runs at 2.1 GHz.
I'll have to see how the Lenovo Flex 5 Chromebook behaves in daily use to get a better idea of ​​the comparison. It's also worth noting: this 2 in 1 has a cooling fan, although so far I've only heard of it when I ran some of the benchmark tests.
Overall, I have no doubt that on paper, with the Lenovo Flex 5 Chromebook, you're getting a lot for your money.
Some may be put off by the 4 GB of memory and I can understand it. This would not meet my needs, for example, which generally require more memory and storage space, such as when I use Linux for hours to program.
This does not mean that this is not a good device, especially if your needs are oriented to the daily use of the web with what seems to be enough power to fly on the Internet or use Android apps. You also get a good display that may not be the brightest and therefore limited to non-external use cases.
Stay tuned for the full review as I make the Lenovo Flex 5 Chromebook my primary device in the coming days. Feel free to ask specific questions in the comments below and I will try to answer them in the review.
Source link