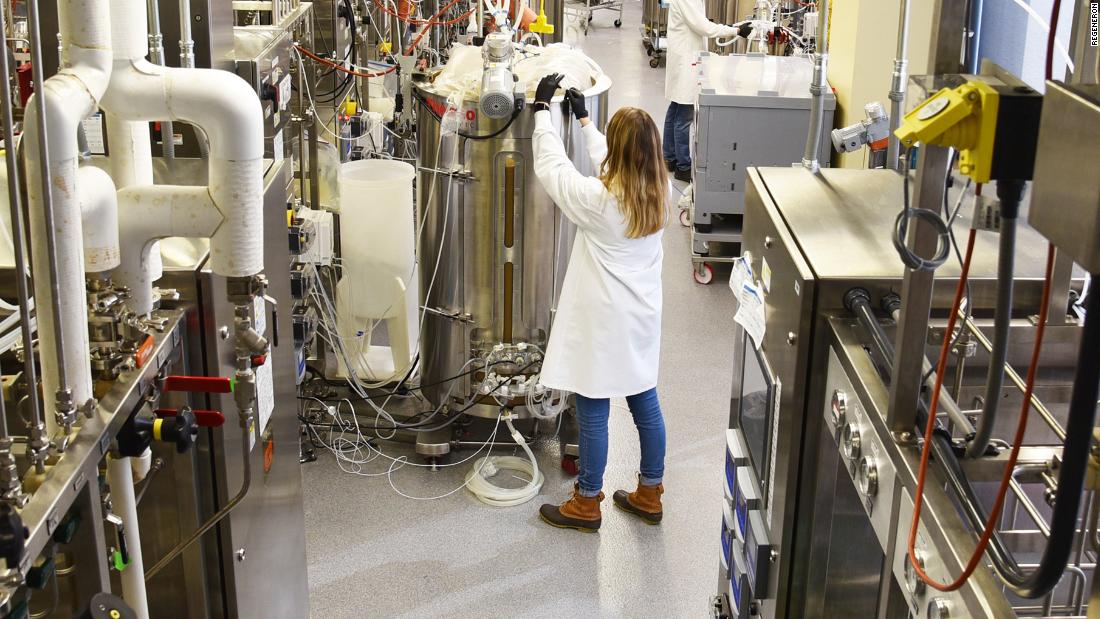 The greatest improvements were seen in patients who had not already fitted a natural response to the infection, the company said.
The results involve only 275 patients of the 1,000 who enrolled in this particular study, but they look "very promising," Dr Jeanne Marrazzo, director of the infectious disease division at the University of Alabama at Birmingham, told CNN.
The treatment also showed positive trends in reducing doctor visits for patients, none of whom were ill enough to be hospitalized at the start of the study, the company said. The numbers in this early release of information were small, and the data has not yet been peer-reviewed. Only key figures were available in a company press release.
A company spokesperson said the data validates the treatment as a therapeutic substitute for a natural response to the virus.
Marrazzo said what struck her was that the study characterized patients based on their immune responses before treatment and determined who benefited and who didn't.
"What I think is fascinating is that it shows that antibodies really matter and the antibody against the spike protein has been really helpful, particularly when people have made the antibodies themselves," Marrazzo said. "Whether it's antibody therapy or vaccines that target these proteins, it looks like we're on the right track. I think that's really encouraging."
It was also encouraged by reducing the amount of virus in people's throats, which could theoretically reduce the risk of infecting others. "If it worked and you could treat people early and actually reduce the viral load in the nasopharynx, and they could be less contagious, it would be extremely helpful," Marrazzo said.
As the company released the information in a press release and not as a scientific report, it's unclear who was enrolled in the study and how much they reflected the population. The treatment would need to be tested on many more people to know for sure how well it works. Scientists will also want to know more about how many patients received the treatment needed to be hospitalized.
"We don't have this information today, but we will," Dr. Leonard Schleifer, co-founder of Regeneron. "We have already learned that hospitalized patients have an even higher viral load, which suggests that they are not attempting an adequate immune response. So we hope to be able to see the same thing with those patients."
Schleifer is "very encouraged" by these early results.
"It came in exactly the way we expected it to work," Schleifer said.
Dr. Claudia Hoyen, an infectious disease specialist at University Hospitals Cleveland Medical Center, also sees the results as "promising." The data shows no safety concerns, he said, and preliminary data so far looks good.
"It looks safe, and it appears to be heading in the right direction in terms of decreasing virologic load and, there appears to be a preliminary correlation with fewer symptoms and fewer hospitalizations," Hoyen said. "But again, they still have a lot of patients to report to know for sure."
Jennifer Gommerman, a professor of immunology at the University of Toronto, also used the phrase "very promising".
He said that, along with Regeneron's previous work published in a peer-reviewed journal in August, the further key aspect is that the "cocktail" approach is effective.
A cocktail antibody therapy uses two or more laboratory-engineered antibodies. The Regeneron cocktail includes a monoclonal antibody that targets the spike protein that the virus uses to puncture healthy cells and another antibody that targets a different part of the new coronavirus. With two, the hope is to trap and block viral replication.
"They appear to have had positive results and that doses of this antibody cocktail reduce the time patients are sick, especially patients who have not been able to mount their antibody response," said Gommerman. "Obviously they will have to do a lot more human experiments and bigger trials to be truly safe."
Gommerman, Marrazzo and Hoyen think antibody treatments could be a real help in patient populations that don't generate a real, robust immune response to a vaccine, such as patients in nursing homes or other elderly people. Treatment can also be useful in the transition period, before everyone can be vaccinated.
Regeneron isn't the only company working on antibody treatment. Eli Lilly is also in an advanced stage of experimenting with her antibody treatment. There are at least 70 different antibody treatments under study according to BIO, an association representing major biotech companies.
Regeneron said there will be more data to come from this study, from a study involving hospitalized patients and one that is testing the antibody cocktail as a prevention for people who have contact with someone in their family who has Covid-19.
Schleifer said Regeneron is in talks with regulators over these findings to see if the U.S. Food and Drug Administration would consider an emergency clearance of the drug. They have additional data that the company will submit for formal approval.
Regeneron co-founder George Yancopoulous said during a shareholder call Tuesday that it is up to regulators to decide whether this information is enough to make this therapeutic intervention available sooner to patients who may need it.
"I think this deserves to be discussed with regulators, due to all the implications for society," said Yancopoulous.
"We believe there is a lot of evidence here to suggest that this is a therapeutic solution that could really benefit quite a number of individuals and patients."
Source link