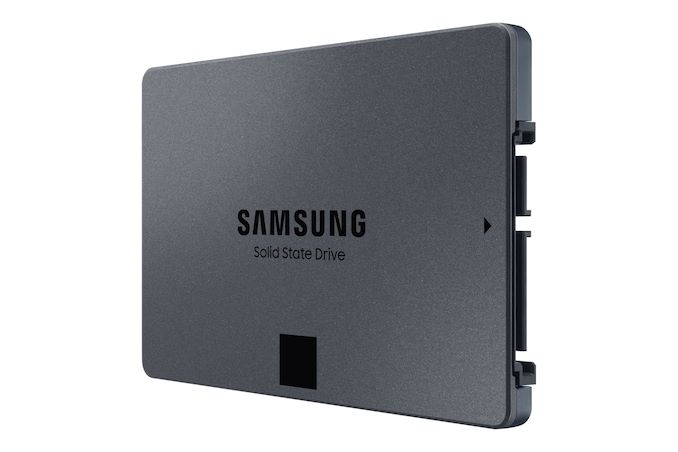 A year and a half ago, Samsung introduced the first consumer SATA SSDs to use QLC NAND flash memory, compressing an additional bit into each memory cell, producing the 860 QVO to join the existing 860 EVO and PRO range. Samsung's second-generation NAND QLC is now ready and the 870 QVO is the first 870 model to be launched.
The industry has made many efforts to prepare for the arrival of NLC QLC: enhancement of error correction to compensate for the lower write resistance and optimization of cache algorithms on consumer units to prevent lower performance after SLC cache exhaustion. But despite all the hard work needed to make QLC SSDs feasible, they haven't done much sketching and are certainly not yet replacing TLC from the market.
The new Samsung 870 QVO SSDs arrive in a market landscape that does not seem so different from what the 860 QVO faced at the end of 201
8. Samsung is no longer the only brand that sells consumer SATA SSDs with QLC NAND, but not it's a great club. Most of the other SATA QLC drives are so low-end that manufacturers won't commit to using any particular memory inside and are using what's cheaper right now. A few months, there's still a lot to save by going with a DRAMless and TLC NAND controller that fell off the back of a truck, rather than using Samsung's strategy of pairing theoretically cheaper QLC NAND with a solid controller.
QLC NAND has had a little more impact in the NVMe SSD market, where some other brands are experimenting with using QLC to create great cheaper units, rather than simply making economic units even cheaper. This is the same goal that Samsung had for the 860 QVO and now the 870 QVO: to bring multi-TB SSDs to the mainstream. Samsung's most visible contribution to this will be the introduction of the first 8TB consumer SATA SSD: the 8TB 8VO QVO. That model should arrive a little later in August and we don't have a sample yet. Today we are examining the 1 TB and 4 TB capacities of the 870 QVO.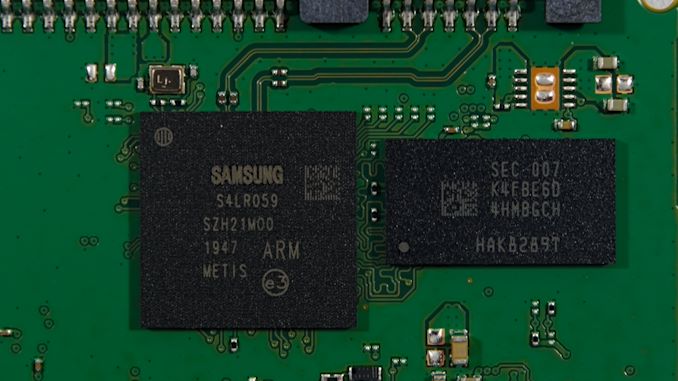 Samsung MKX and DRAM LPDDR4 controllers
Samsung 870 QVO is an incremental update of 860 QVO. The QLC NAND has been updated from Samsung's 64-layer V-NAND to the 92-layer V-NAND. For their NVMe product line, this modification produced the 970 EVO Plus as a successor to the 970 EVO without even updating the controller and the 970 PRO was not updated at all. The 870 QVO brings a controller update, replacing the MJX with the MKX in Samsung's long line of SATA SSD controllers. Samsung has not revealed any particular improvements to its controller or firmware architecture and we suspect that this iteration is a minor update from the last one. We know that the old MJX controller was already capable of supporting 8TB capacity, so it wasn't the driving force behind this controller update.
Samsung 870 QVO Specifications
Capacity
1 TB
2 TB
4 TB
8 TB
Form factor
2.5 "7mm SATA
ticket inspector
Samsung MKX
NAND Flash
Samsung 1Tbit 92L 3D QLC
LPDDR4 DRAM
1 GB
2 GB
4GB
8 GB
Maximum SLC cache size
42 GB
78 GB
78 GB
78 GB
Sequential reading
560 MB / s
Sequential
write
SLC
530 MB / s
QLC
80 MB / s
160 MB / s
Random
To read
IOPS (4kB)
QD1
11k (SLC)
5k (QLC)
11k (SLC)
5k (QLC)
QD32
98k (SLC)
45k (QLC)
98k (SLC)
74k (QLC)
Random
write
IOPS (4kB)
QD1
35k (SLC)
22k (QLC)
35k (SLC)
34k (QLC)
QD32
88k (SLC)
22k (QLC)
88k (SLC)
42k (QLC)
Power
Consumption
To read
2.1 W.
2.1 W.
2.2 W.
2.4 W.
write
2.2 W.
3.0 W.
3.2 W.
3.3 W.
Idle
30 mW
30 mW
35 mW
45 mW
DevSlp
3 mW
4 mW
7 mW
10 mW
warranty
3 years
Write resistance
360 TB
0.3 DWPD
720 TB
0.3 DWPD
1440 TB
0.3 DWPD
2880 TB
0.3 DWPD
MSRP
$ 129.99
(13 ¢ / GB)
$ 249.99
(12 ¢ / GB)
$ 499.99
(12 ¢ / GB)
TBA
Samsung continues to provide more detailed performance specifications than any other consumer SSD vendor. The large frontline numbers that everyone hardly report deserve to be mentioned for a SATA drive; almost all units can saturate the 6 Gbps interface in ideal conditions, with random or sequential reads or writes at a sufficiently high tail depth. Samsung does all it can to provide performance specifications at Queue 1 depth and performance after SLC cache exhaustion. Some of these numbers seem rather brutal: the sequential write speed drops to just 80 MB / s for the 1 TB model and random readings are also considerably slower when accessing the QLC data rather than the SLC cache. But overall, these specs are very similar to the 860 QVO. The random write performance in QD1 appears to have taken a hit, but everywhere the performance for the 870 QVO is rated as the same or slightly better than its predecessor.
The 870 QVO product line still starts at 1 TB, the minimum size required to operate 8 controller channels when using 1024 Gbit NAND molds. That smaller capacity model has some significant performance deficits compared to multi-TB models, in much the same way as 256 GB TLC units that fit into their larger counterparts, or 512 GB capacity for high-performance NVMe SSDs . The most notable limitations of the 1 TB 870 QVO are the post-cache write speed of 80 MB / s compared to 160 MB / s and the cache size which is almost halved. Together, this means that the 1 TB model is more likely to show unacceptable performance when the SLC write cache is exhausted, but at 42 GB the cache of this model can still handle more writes than many users perform in an entire day of use of the desktop.
The Samsung warranty for 870 QVO is 0.3 writes per day for 3 years. This is comparable to many low-end consumer TLC units and a step up from most other consumer QLC units rated from 0.1 to 0.15 DWPD (sometimes over a 5-year warranty period, but that's still fewer total writes than 870 QVO is rated for).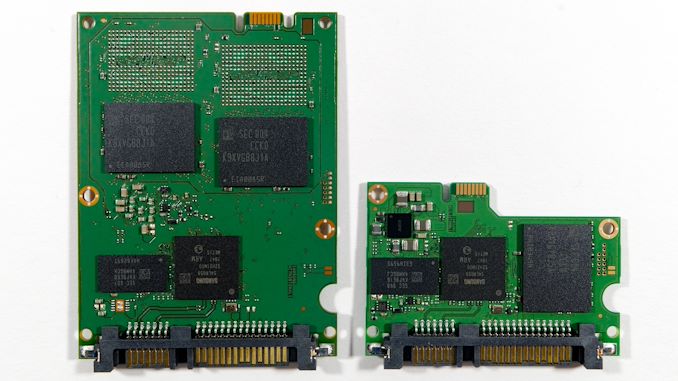 Introductory MSRPs for the QVO 870 are lower than the 8VO QVO debuted, with a $ 50 off 2 TB and $ 100 off 4 TB. But this simply puts the launch price of the 870 QVO on par with the current street prices for the 860 QVO. And since it's Samsung, the price isn't low enough to rule out comparison with traditional SATA TLC SSDs and entry-level NVMe SSDs, especially for lower capacities.
In a sense, it's okay for this review, because the 870 QVO doesn't have much direct competition in the form of other large SATA QLC drives. Most SSDs that are considerably cheaper than the QVO 860/870 are SSDs without DRAM, usually TLC but occasionally QLC. The cheaper entry-level NVMe SSDs are all DRAMless with TLC or use QLC with a more mainstream controller.
For this review, we are comparing 870 QVO with the following:
The immediate predecessor of the 870 QVO, the 860 QVO
ADATA Ultimate SU750 and Patriot P200, two different SATA TLC DRAMless drives. SU750 uses a Realtek controller and 2 TB P200 used a Maxio controller, both budget options.
Crucial MX500 and Samsung 860 EVO as traditional SATA SSDs with TLC NAND. The MX500 has always been one of the cheaper mainstream SATA SSDs of a major brand, and the 860 EVO generally makes the most sense to pay for SATA SSDs beyond, and the money would be better spent on a good NVMe SSD.
The Intel 660p: one of the few NVMe QLC SSDs on the market. The 660p has been replaced by the more recent 665p, but both are still widely available. Although the 665p is a bit faster, the 660p still has no problem turning circles around SATA drives in the right conditions.
We don't have any non-Samsung 4TB consumer SSDs to compare; Western Digital Blue is pretty much the only other 4 TB SATA consumer SSD, and the Rocket and Rocket Q drives based on Sabrent's Phison E12 are the current options on the NVMe side. The rest of the 4+ TB SSD options are business units that lack SLC cache and inactive power management and are much more expensive than any other review.
Ultimately, most of the competition against multi-TB SSD comes from hard drives, the existing alternatives for high capacity drives. Multi-TB hard drives are still much cheaper than multi-TB SSDs, but for many consumers the big question asked by drives like the 870 QVO is whether it is still reasonable to move all their solid state storage. This does not necessarily require SSDs to pair hard drives on a $ / GB basis, because there are many benefits for SSDs that are worth paying at least a little more for.
Representing the hard drive market, we have a 4 TB Western Digital WD Red, the pre-SMR model WD40EFRX. It's the newest and largest hard drive I have on hand, because my home office has been drowning in SSDs for years. (A nice problem to have.)
AnandTech 2018 Testbed consumer SSD
processor
Intel Xeon E3 1240 v5
motherboard
ASRock Fatal1ty E3V5 Performance Gaming / OC
chipset
Intel C232
Memory
4x 8 GB G.SKILL Ripjaws DDR4-2400 CL15
Graphics
AMD Radeon HD 5450, 1920×1200 @ 60Hz
Software
Windows 10 x64, version 1709
Linux kernel version 4.14, fio version 3.6
Specter / Meltdown microcode and operating system patches updated in May 2018
Source link