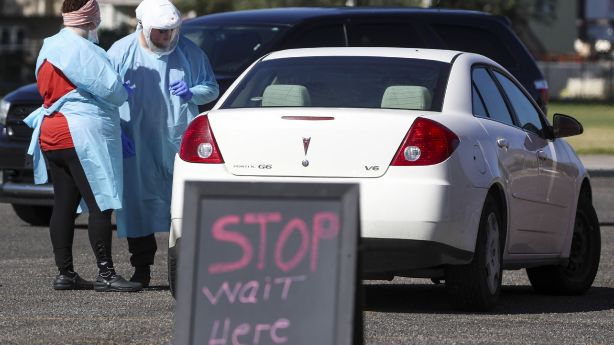 SALT LAKE CITY – The Utah Department of Health reports 572 new confirmed cases of COVID-19 and two deaths from the disease in its daily online update on the virus.
This brings Utah to 57,247 total cases and 433 deaths from the novel coronavirus since the start of the pandemic. In an email, Health Department spokesman Tom Hudachko said the deaths were of a Salt Lake County man aged 45 to 64 who had been hospitalized and a Davis County man among the 65 and 84 years old who was a resident in a long-term care facility.
There have now been 190 long-term deaths residing in facilities in Utah, the health department says.
The new case count on Saturday is slightly down from Friday̵
7;s 656 case count, but is still high from the average daily data for the past few weeks. State health officials said Tuesday's windstorm that devastated northern Utah and temporarily closed many testing centers may have explained the high number of cases on Friday, as a delay had been created.
According to data from the health department, 4,422 new Utahns were tested for the virus compared to numbers on Friday. Currently, 120 Utahns are hospitalized for COVID-19. Of the state's total cases, 48,396 are considered resolved and 8,418 are considered active.
In the past week, the state has averaged 421 new coronavirus cases per day, and its positive test rate is 9.2%.
State leaders this week unveiled new metrics by which they gauge Utah's response to the virus, including seven-day average case count and case death rate, outbreak containment, bed usage. critical care and even economic indicators such as consumer confidence.
Utah has met its short-term goals in many respects, but still aims to reduce the number of continuous seven-day cases and improve consumer confidence and ongoing unemployment claims. Leaders aim to get average daily cases below 400, as they were recently.
Methodology:
Test results now include data from PCR tests and antigen tests. Positive COVID-19 test results are reported to the health department immediately upon confirmation, but negative test results may not be reported for 24-72 hours.
The total number of cases reported each day by the Utah Department of Health includes all cases of COVID-19 since the outbreak in Utah, including those who are currently infected, those who have recovered from the disease, and those who have died. .
Recovered cases are defined as anyone who was diagnosed with COVID-19 three or more weeks ago and has not died.
According to the Department of Health, state-reported deaths typically occurred two to seven days before they were reported. Some deaths may have occurred even further back, especially if the person is from Utah but died in another state.
The Department of Health reports both confirmed and probable deaths from COVID-19 according to the case definition outlined by the Council of State and territorial epidemiologists. Death counts are subject to change as case investigations are completed.
The data included in this story primarily reflects the state of Utah as a whole. For more localized data, visit the local health district website.
The information comes from the Utah Department of Health and coronavirus.utah.gov/case-counts. For more information on how the Utah Department of Health compiles and reports COVID-19 data, visit coronavirus.utah.gov/case-counts and scroll down to the "Data Notes" section at the bottom of the page.
×
Other stories that may interest you
Source link