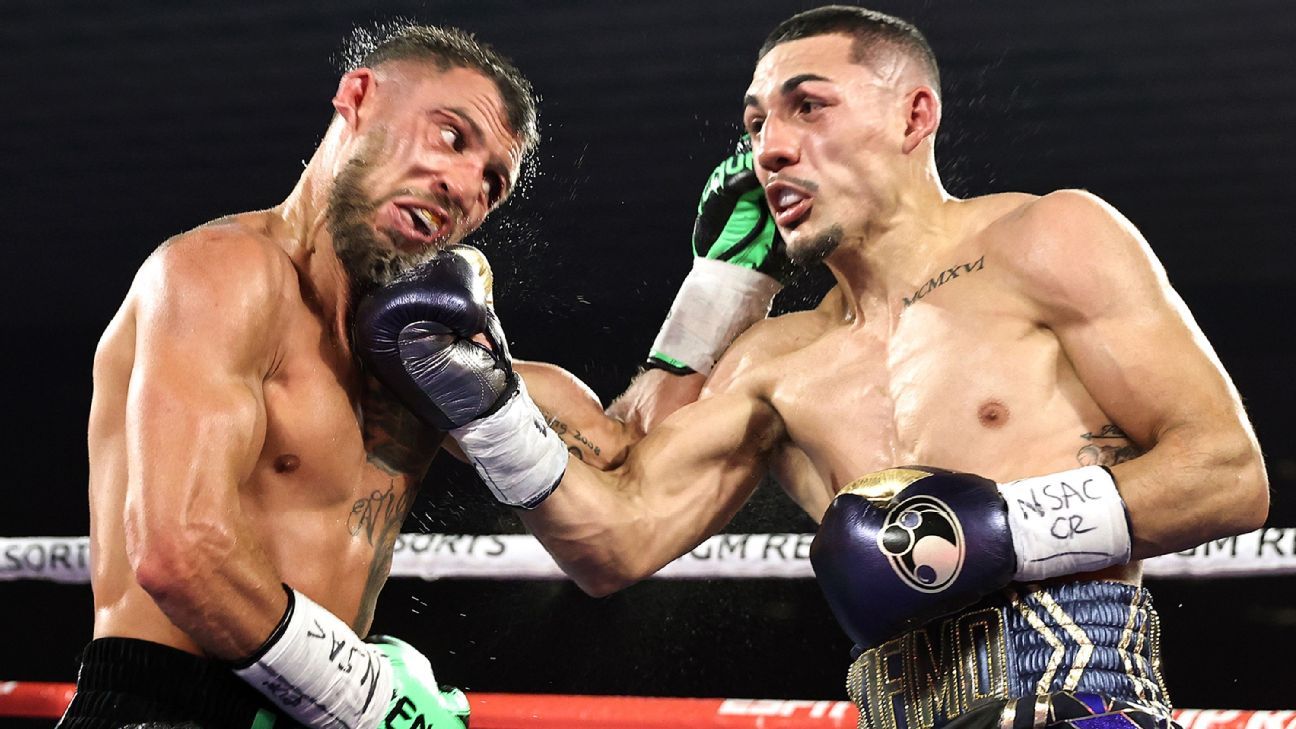 We have a new light king. At just 23, Teofimo Lopez became the undisputed lightweight world champion by dethroning Vasiliy Lomachenko in 12 tense rounds at the MGM Grand Conference Center in Las Vegas on Saturday night.
Lopez becomes the youngest fighter to become a four-belt champion since the WBO was founded in 1
988.
After a good start, Lopez overcame a late Lomachenko rally by winning with scores of 116-112, 119-109 and 117-111.
The bout was dominated early on by Lopez boxing, who controlled the center of the ring using his educated left hand and then hit Lomachenko with well-placed body jabs that had the smaller boxer back up.
Lopez (16-0, 12 KOs) built a big lead on the scorecards as he was able to neutralize Lomachenko's graceful moves (14-2, 10) behind that jab. For most of the first half of the fight, Lomachenko simply moved into the ring and did very little in attack. It was clear that Lopez's technical acumen and poise were largely underestimated. For long periods of the bout he was actually outboxing the master boxer.
Yet Lomachenko did not give up without a fight. As the fight entered the final stages, Lomachenko, feeling he was behind, began to build up the pressure and began to bridge the gap on Lopez. He hit him with his fast, laser left hands that slowed Lopez's momentum. To his credit, Lomachenko organized a late rally in the championship rounds.
"I think the first half of the fight got more rounds than me, but in the second half of the fight I got the upper hand," Lomachenko said. "I've been much better."
But if Lopez needed a late statement, it was made in the 12th and final round. Despite Lopez's father saying he had won the fight in the final round, Lopez kept the pressure and moved his hand, landing several significant power shots that stopped Lomachenko in his tracks. Only a clash of heads that caused a gash on Lopez's left eye stopped the tide.
"I'm a fighter," Lopez said after the fight regarding the 12th round. "I have to dig deep. I knew it was coming. I didn't know if they had it on the scorecards or not, and I like to fight. I can even beat. I don't care, man. I take one to give it. champion. I find a way to win. "
This round was a belated exclamation to what was an outstanding performance by a young man who fulfilled the fate of his outspoken father, who prophesied that not only would his son win a world title at his 15th fight, but he would toppled a boxer who many consider the best in the sport since his 16th.
Source link