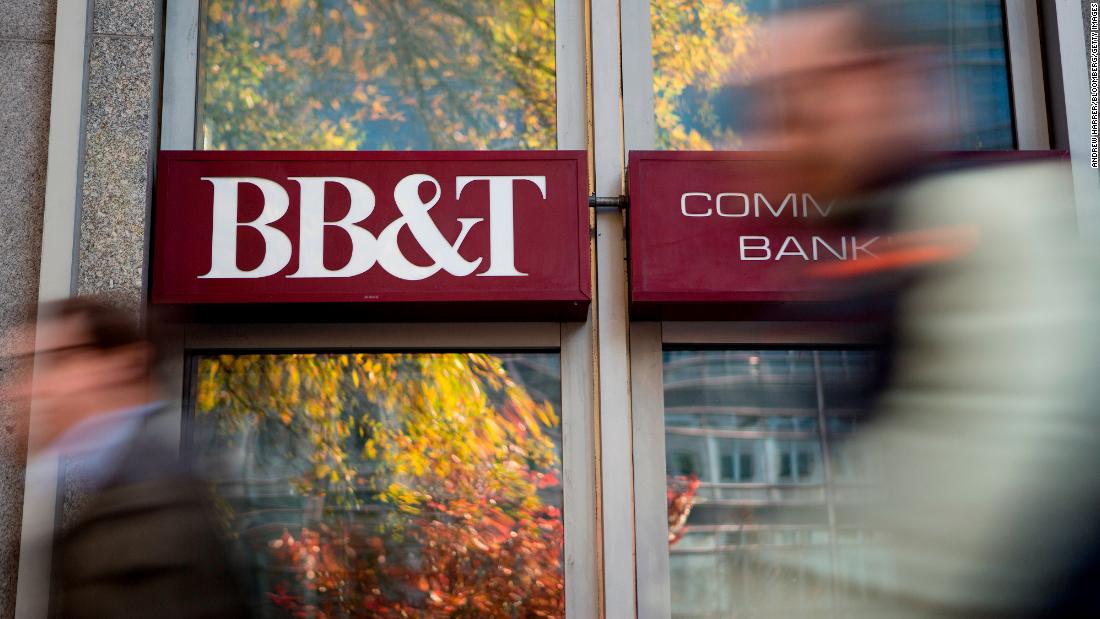 The announcement of last week that
BB & T
(

BBT

)
and
SunTrust
(

STI

)
joined forces, forming the sixth largest US bank, sparked chatter in the industry that other medium-sized US banks could collaborate to take on industry heavyweights.
There are several reasons why this makes sense. The increase in technological costs makes the scale more attractive. Competition by banking giants, start-ups and even non-banks, such as private equity firms, is squeezing regional players. And mid-level banks want to continue expanding their budgets, forcing them to find other ways to pursue growth.
"Bigger makes sense," said Brian Klock, an analyst at Keefe, Bruyette & Woods, which covers large regions of US banks.
After the 2008 financial crisis, mergers and acquisitions in the banking sector were interrupted as industry regulation increased and the public remained suspicious of institutions "too big to fail".
Ten years later, another round of consolidation appears imminent, according to Alan McIntyre, senior managing director of Accenture for the banking sector.
Technological barriers and interest rates
One factor that encourages banks mergers is the huge amount of money that financial corporations now need to invest in technology. It is necessary so that they can protect their systems and keep their digital presence up-to-date.
Internal systems can require a lot of maintenance, while customers expect high quality service on their phones and online.
Larger banks have an advantage here. Their expanding online footprint allows them to compete in new markets. And they have huge budgets.
JPMorgan Chase
(

JPM

)
the largest US bank for assets, has allocated $ 1
0.8 billion to spend on technology in the last year
"Many Regional banks do not need all the bells and whistles, "as a mobile app with facial recognition, said Klock. But he added that large banks could attract customers by taking on certain tasks, such as taking out a mortgage, more easily.
By raising interest rates, banks are also struggling to keep deposits, because customers are looking for the best possible return.
Mergers help banks build their deposit base, which is needed to extend more loans. They also give banks more influence on the market, which gives them more control over the rates they apply and pay.
Navigation Regulations
Then there is the Federal Reserve, which is considering a proposal to facilitate the oversight of banks with less than $ 250 billion in assets. BB & T and SunTrust had however approached that threshold alone. At that point, it might make more sense for them to combine and reap the benefits of the dimension. (Together, the two banks will have resources for $ 442 billion.)
Banks in that position are already facing some degree of regulation, Klock said. "So why not get bigger?"
In addition, the technologies that contribute to reducing the burden of regulation have popped up in recent years. The cost of compliance with stringent federal regulations is "not so intimidating," said McIntyre.
Despite these considerations, few banks adapt to the exact profiles of BB & T and SunTrust.
PNC
(

PNC

)
which has assets of about $ 382 billion, is already well above the $ 250 billion mark.
Fifth Third
(

FITB

)
and
M & T Bank
(

MTB

)
which are about $ 146 billion and $ 120 billion in assets, respectively, may not want to increase their regulatory exposure with significant acquisitions.
But the need for higher loan growth, especially on the commercial side, could spur these players and others into thinking of a variety of businesses. Fifth Third, for example, picked up Chicago's MB Financial for $ 4.7 billion last year
"These should be golden days for banks in the United States", said McIntyre. "High economic growth, low unemployment, rising interest rates, but [middle-tier] banks have struggled to grow."
Mergers and acquisitions should be "on top of that list" of options to consider, he continued.
Major banks excluded
Not everyone will be allowed to participate in the next wave of acquisitions.
The largest banks, including JPMorgan,
Citigroup
(

C

)
Bank of America
(

BAC

)
and
Wells Fargo
(

WFC

)
would probably be forbidden to buy another sizable bank company, analysts said. Instead, they are buying more niche financial companies. For example, Morgan Stanley announced Monday that it would buy Solium, which manages equity plans, for $ 900 million.
There are already antitrust concerns in Washington about large regional banks that are joining.
Maxine Waters, president of the Financial Chamber The service commission said last week that the BB & T-SunTrust agreement "raises many questions and deserves serious scrutiny from the banking regulators, Congress and of the public. "
Senator Elizabeth Warren, a presidential Democratic competitor in 2020, said in a letter to Fed presidency Jerome Powell, who is worried about the central bank, will ratify the merger without seriously examining the consequences.
But there is no doubt that the union of BB & T and SunTrust will eventually be approved, at least in the sector. The Trump administration has fostered the deregulation of the financial sector and it would be surprising if it had suddenly questioned.
If it passes, the BB & T-SunTrust agreement will send a strong signal to other companies exploring the mergers.
The message: now is the time to act.
Source link