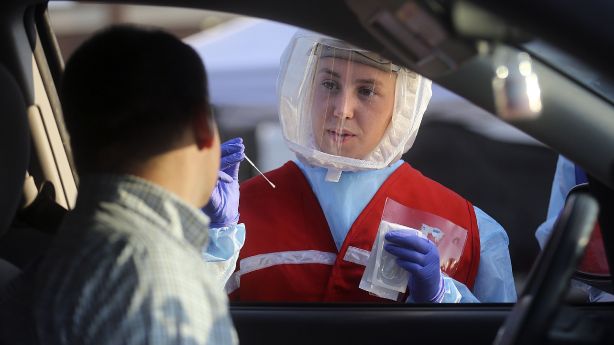 SALT LAKE CITY – Utah once again broke the single-day COVID-19 case record on Friday with 1,411 new infections reported, surpassing Thursday's previous record of 1,198, according to the Utah Department of Health.
Four other deaths were also reported on Friday, the health department said.
The state also reported the highest total of COVID-19 tests in a single day of the pandemic, with an increase of 10,242 tests conducted on Friday.
"Unfortunately, today we also see a record number of new cases reported which has been mainly driven by an increase in cases among young people. We expect these increases to extend to other age groups as well and the data indicates that this is starting to occur."
; the health department said in a press release Friday.
The state now estimates that there are 14,722 active cases of COVID-19 in Utah. The seven-day mean continuous number of positive cases per day is now 960, according to the health department. The positive test rate per day for that time period is now 14%.
The new numbers on Friday indicate a 2.1% increase in positive cases since Thursday. Of the 795,217 people tested for COVID-19 in Utah so far, 8.6 percent have tested positive for the disease.
Although Friday's case numbers broke the Utah record, the health department said increasing the amount of testing is a good sign to control the spread of COVID-19 in the future.
"For the first time, we passed more than 10,000 tests reported in a 24-hour period," says the health department statement. "Tests are a key component of our response and help us understand the spread of the virus in our communities."
The department encouraged anyone with symptoms of COVID-19, including fever, cough, shortness of breath, sore throat, muscle aches and pains, or a loss of sense of taste or smell, to get tested.
There are now 184 COVID-19 patients hospitalized in Utah, including 76 people in intensive care units, or ICUs, read in the state, data from the health department show. About 68% of all ICU beds in the state have been occupied since Friday, while about 55% of non-ICU beds are occupied.
The four deaths reported on Friday include:
A Weber County man who was between the ages of 65 and 84 and was hospitalized when he died
An Iron County woman who was between the ages of 65 and 84 and was hospitalized when she died
A woman from Salt Lake County who was over 85 and was a resident of a long-term care facility
A Washington County man who was between the ages of 65 and 84 and was a resident of a long-term care facility
Friday's totals are in Utah 68,530 total confirmed cases, with 3,668 total hospitalizations and 448 total disease deaths. A total of 53,360 COVID-19 cases in Utah are now considered cured, the health department said.
There is no COVID-19 press conference scheduled for Friday. Utah officials gave an update this week at a press conference on Tuesday, and Governor Gary Herbert also spoke on Thursday during his monthly press conference with PBS Utah.
Although health officials now say that all age groups have seen an increase in COVID-19 cases during the current increase, the spike has mainly been driven by the increase in cases between ages 15-24.
To combat the spread of COVID-19 among young people, the health department on Friday announced a new public information campaign, aptly dubbed "Ronalert". The campaign aims to help young people "avoid Rona" by putting safety measures in terms that are relevant to that age group.
"The campaign encourages our young people to make choices that we know help stop the spread of COVID-19: wear a mask, physically walk away, wash your hands and stay home when sick or tested positive," said the health department. Friday.
More information is available at coronavirus.utah.gov/rona.
Methodology:
Test results now include data from PCR tests and antigen tests. Positive COVID-19 test results are reported to the health department immediately upon confirmation, but negative test results may not be reported for 24-72 hours.
The total number of cases reported each day by the Utah Department of Health includes all cases of COVID-19 since the outbreak in Utah, including those who are currently infected, those who have recovered from the disease, and those who have died. .
Recovered cases are defined as anyone who was diagnosed with COVID-19 three or more weeks ago and has not died.
According to the Department of Health, state-reported deaths typically occurred two to seven days before they were reported. Some deaths may be even further behind, especially if the person is from Utah but died in another state.
The Department of Health reports both confirmed and probable deaths from COVID-19 according to the case definition outlined by the Council of State and territorial epidemiologists. Death counts are subject to change as case investigations are completed.
The data included in this story primarily reflects the state of Utah as a whole. For more localized data, visit the local health district website.
The information comes from the Utah Department of Health and coronavirus.utah.gov/case-counts. For more information on how the Utah Department of Health compiles and reports COVID-19 data, visit coronavirus.utah.gov/case-counts and scroll down to the "Data Notes" section at the bottom of the page.
×
Photos
Other stories that may interest you
Source link