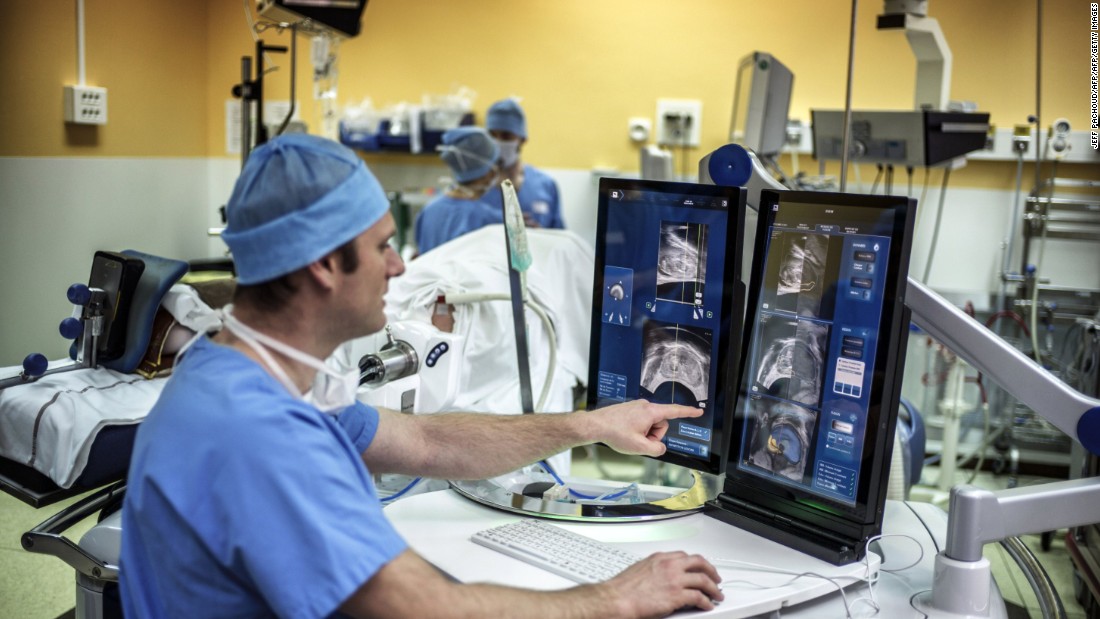 Among men with low-risk prostate cancer in the United States, 42.1% used the watch-and-wait approach, also called "active surveillance", in 2015, compared to 14.5% in 2010, according to a study published in the medical journal JAMA Monday
Compared to high-risk or intermediate-risk prostate cancer, low-risk tends to grow very slowly or not at all, which is why "active surveillance" can be considered an alternative to treatment options such as surgery or radiotherapy. Surgery and radiation therapy may have some side effects, including a greater risk of erection problems or accidental loss of urine or faeces.
With the use of active surveillance surged between 2010 and 201
5, it became the most common approach for low-risk prostate cancer management, according to the study.
"We have found that in low-risk prostate cancer, the use of active surveillance is almost tripled," said Dr. Brandon Mahal, a clinician in oncology radiotherapy at the Dana-Farber Cancer Institute of Medicine. Harvard University in Boston and first author of the study.
"Overall, these numbers are a good sign and a good thing," he said. "From 2010 to 2015 there have been many new trials – the highest level of evidence we can obtain in medicine, which are prospective studies and some of these randomized trials – that have shown that active surveillance, conservative approaches or non-approaches therapeutic therapies of low-risk prostate cancer have very favorable outcomes. "
" This study really is the reference point "
Prostate cancer worldwide is the second most common cancer among men. There were 1.3 million new cases of prostate cancer in 2018, says the World Cancer Research Fund.
In the United States, approximately 11.2% of men will be diagnosed with prostate cancer at some point during their lifetime, according to the National Cancer Institute.
The new study included data on 164,760 men diagnosed with prostate cancer in the United States between 2010 and 2015. Data from the Surveillance, Epidemiology and End Results database included information on the therapeutic approach of each man .
Researchers found that among men with risk disease, the use of active surveillance increased while the use of radical prostatectomy – or the removal of portions of the prostate gland – decreased from 47 , 4% in 2010 to 31.3% in 2015. Even the use of radiotherapy decreased, from 38% in 2010 to 26.6% in 2015, the researchers found.
Among men with intermediate-risk illness, between 2010 and 2015, active surveillance increased from 5.8% to 9.6%; prostatectomy decreased from 51.8% to 50.6%; and radiation therapy went from 42.4% to 39.8%, the researchers found.
Among men with high-risk illness, active surveillance remained almost unchanged, from 1.9% to 2.2%; prostatectomy increased from 38% to 42.8%; and radiotherapy decreased from 60.1% to 55%, the researchers found.
The study presented some limitations, including that of analyzing trends only within a period of five years. Further research is needed to determine trends over a longer period of time and how these trends could impact public health. The study also lacked data on whether patients actually met their doctors' orders on active surveillance or other management approaches.
Yet, on the whole, "this study really is the benchmark for what surveillance rates are in the United States," Mahal said.
"There were other studies that looked at the same question and found increasing rates, but those studies were done with smaller databases or databases that did not collect this type of information," he said. "Furthermore, it is important to continue to follow these trends to know for sure what are the rates of management in the United States, and also to know in the population, how patients do on active surveillance."
"A major change in medical practice"
A study published in JAMA last year found that the use of a conservative approach to cancer management – including active surveillance – rose by 27% in 2005 to 72% in 2015 among men with low-risk prostate cancer in the integrated Veterans Affairs health system which was under 65 and from 35% in 2005 to 79% in 2015 among 65 and the elderly.
"It is very encouraging that the proportion of men receiving conservative low-risk prostate cancer has increased so much over time … However, there seems to be a long way to go," said Dr . Stacy Loeb, urologist and assistant professor of urology and population health at NYU Langone Health in New York.
category of low-risk prostate cancer, what we now know is that the prognosis is quite good even without treatment, "said Loeb, who was not involved in the new research but was the first author of the last year's study
When it comes to radiation or prostatectomy, "these treatment options have potential side effects, such as the impact on erectile function, urination and, in some cases, intestinal function," he said "So it's a tempting option for men to monitor cancer and then receive delayed treatment as needed, if over time there are signs that cancer is becoming more aggressive."
The new study reflects how the medical community continues to grow in its understanding of the best way to treat certain types of cancer, said Dr. J. Leonard Lichtenfeld, temporary medical director of the American Cancer Society, who was not involved in the research.
"We really came A long way in trying to better understand how to screen prostate cancer and, once discovered prostate cancer, how to treat prostate cancer and understand that not everyone needs to remove or irradiate his prostate, "said Lichtenfeld.
"That does not mean they can never need radiation or surgery. The whole point of observation of these men is to find out if their prostate cancer changes its behavior over time, if it becomes more aggressive, so give treatment to those who really need it, "he said. "This is a big change in medical practice."
Source link