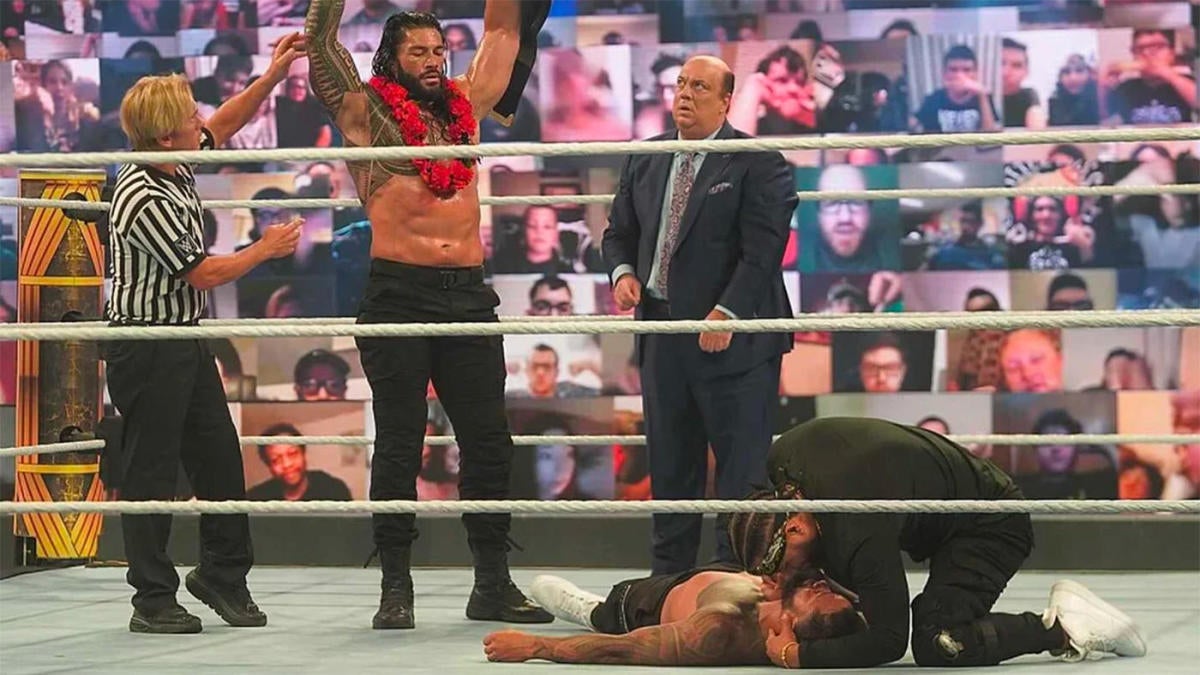 WWE Clash of Champions is the company's pay-per-view where every title on Raw and SmackDown must be defended, but in the 2020 edition of the event, only one (real) title eventually changed hands. Ultimately, the event saw some very high highs, but the lasting memory will be the main event, a time when Roman Reigns truly established himself as the company's high heel after brutalizing his cousin.
In the main event, Reigns defended the universal championship against Jey Uso. The match was filled with drama and intensity that equaled an incredible build in three weeks of intensity before Uso̵
7;s twin brother Jimmy threw in the towel after Reigns was brutalizing his brother. Jey made an energetic effort, but Reigns was simply too strong and too good for his cousin, and began a brutal assault along the final stretch. Uso refused to comply with Reigns' requests to recognize him as the head of the family table and "the tribal chief". As Reigns continued to drop his fists and elbows on his flesh and blood, Jimmy Uso eventually threw in the towel to save his twin from any further punishment.
The match came after an event that saw a total of eight games for the title – the match for the women's tag team title was canceled late after champions Nia Jax and Shayna Baszler were announced as unauthorized by the point medically for the event, and another title match landed a different challenger – many of which stood out as solid efforts, though none matched the opening lineup match that saw Sami Zayn take the championship intercontinental overtaking Jeff Hardy and AJ Styles.
CBS Sports was with you throughout the event, providing updates and highlights as the action unfolded in the ThunderDome within Orlando's Amway Center.
WWE Clash of Champions 2020 results, votes
SmackDown Tag Team Championship – Shinsuke Nakamura and Cesaro (c) vs Lucha House Party: Kalisto and Lince Dorado were teaming up with Gran Metalik on the outside, an odd choice as Kalisto and Dorado have clashed repeatedly over the past few weeks. LHP got off to a good start, knocking out Cesaro with a quick attack before Nakamura was able to take over Dorado. After a long heat segment on Dorado, Kalisto finally received a hot tag, leading to a wild spot where Dorado performed an outward plunge and Cesaro held Kalisto, allowing his partner to perform a DDT tornado. A wild stretch of near falls ended when Nakamura hit his knee on the run while Cesaro used the giant swing on Kalisto to score the victory. This was a very solid kickoff match that got very hot down the stretch before the champions expected victory. Nakamura & Cesaro (c) def. Lucha House Party via pinfall to keep the titles. Grade: B.
Intercontinental Championship – Jeff Hardy (c) v Sami Zayn v AJ Styles (Ladder Match): As expected, the stairs were brought into the ring very quickly, with Hardy taking the first big bump of the match, diving up an open, flipped ladder after Styles escaped. This was part of the fact that Styles was the dominant offensive force early in the match, bouncing Zayn off a corner straight as well. Styles also knocked Hardy off a ladder early, as both men were climbing towards the headlines, but that wasn't enough to keep Hardy down. Zayn hit an explosive on Styles on a ladder as the brutality continued. There was a big moment where Zayn was alone in the ring, climbing a ladder before Styles threw a ladder like a javelin from outside the ring to knock him to the ground. Hardy would eventually hit Zayn with a Twist of Fate before climbing the ladder, seemingly ready to grab the headlines before Zayn started to flip the ladder. Hardy tried to go down the other side of the ladder upside down, but in the meantime he had a bad fall to the floor – one of the most innovative bumps in a game full of nasty falls. Hardy eventually led Zayn across a ladder suspended between the announcement table and the ring apron with a swanton from the top of another ladder.
Zayn pulled out a pair of cuffs, used one to tie Hardy to a ladder, putting the other end of the cuff through Hardy's ear piercing. While trying to handcuff Styles to the ropes, Styles attacked him, then Zayn handcuffed his own arm to Styles, leading Styles to knock him out and try to climb the ladder with Zayn on his back. Hardy stepped into the ring, still with the ladder handcuffed to his ear and Zayn freed himself from Styles before handcuffing Styles to the ladder. Zayn then used the moment, with both opponents incapacitated, to climb the ladder on Styles' opposite side to grab the belts and win the titles. Just a great and brutal match with a great ending that showed Zayn as a brilliant idiot, willing to do anything to get the job done. Zayn def. Hardy (c) and Styles to win the title. Grade: A
24/7 Championship: R-Truth was walking backstage and entered the referees room. As he walked away, Gulak was doing lunges in the background, realized his opportunity and pulled up Truth to win the title. Gulak was interviewed for winning the title early in the night when Truth cut him off, hit him with a large metal bowl and scored the pin to regain the title. Gulak def. R-Truth (c) via pinfall to win the title | R-Truth def. Gulak (c) by pinfall to win the title
Raw Women's Championship – Asuka (c) against Zelina Vega: Vega chased Asuka's arm early before the champion took over. As Asuka followed Vega out of the ring, Vega took advantage of this by dragging Asuka onto the steps of the ring. Vega remained focused on Asuka's arm, pinning the limb or pushing it into the canvas at every opportunity. Vega came close to the stretch to score a sneaky pin after all her arm work, but Asuka slipped her into the Asuka Lock to force submission. After the match, Asuka called Vega a "firecracker" and offered some compliments, but Vega responded with a stomach kick. An expected result, but a better-than-expected effort from Vega as it looked very sharp in a well-organized match. Asuka (c) def. Vega through submission. Grade: B.
United States Championship – Bobby Lashley (c) vs Apollo Crews: The crews got off to a great start, using speed and agility to compensate for Lashley's power play. Lashley countered a roll over in a corner to take over. Lashley tried to get Crews to run into the ring from the outside but was ultimately the only one to hit the post, allowing Crews to come back, including an impressive press slam over Lashley. After a standing shooting star from Crews, he climbed to the top and hit a frog splash, but Lashley managed to kick at two. However, it only took a misstep from Crews and Lashley managed to secure submission with Hurt Lock. Unfortunately, it's hard to get excited about Lashley vs. Crews or anything involving Crews and Hurt Business after weeks and weeks of seeing variations of the same game. Still, a pretty solid effort in the ring. Lashley (c) def. Crew through submission to keep the title. Grade: B-
Raw Tag Team Championship – The Street Profits (c) against Andrade and Angel Garza: Angelo Dawkins exploded with a big dropkick after being briefly isolated early in the match and Montez Ford followed with a rope flip in a dropkick of his own over Andrade. As Ford was about to start, Garza grabbed Andrade from outside the ring after an Irish whip, getting him out of trouble and slashing himself to take Ford's place, showing off their strengthening work as a tag team after Zelina Vega ditched them. Dawkins took a hot tag and started taking control of the match, but a blind tag resulted in Garza hitting a Spanish fly high on Ford moments later. Ford took a lot of offense from the challengers before another hot tag to Dawkins, who hit a spinebuster for the win even though it became clear Andrade knocked out. Garza appeared injured during the match and the referee's signal that an injury had occurred was generally ignored, forcing him to call the match to end despite the kick-off. After the match, Garza was shown as being looked after by the coaches. Generally a good match, but the final stretch was awkward as everyone tried to adapt on the fly and it wasn't handled smoothly, although that's nothing to hold against anyone involved. The Street Profits (c) def. Andrade and Garza via pinfall to keep the titles. Grade: C +
SmackDown Women's Championship – Bayley (c) vs Asuka (c): Bayley came out to cut a promo in the ring after her fight with Nikki Cross was canceled. Bayley asked to be announced the forfeit winner in an "open challenge" when Asuka arrived in the ring and it was announced that an impromptu title bout would take place. The action went out of the ring where Asuka left Bayley with a German suplex. Bayley then used a steel chair to hit Asuka, drawing a disqualification to allow her to keep her championship. As Bayley celebrated her brilliant decision, she was hit from behind with a steel chair by Sasha Banks. Bayley turned things around on Banks – who was still in a neck brace – by throwing Banks into the ring and grabbing a steel chair. Banks kicked Bayley's legs before lying on top of her with several strokes with a kendo stick. Bayley was able to roll out of the ring before Banks could hit her with a chair again, taking her title and retiring. This was a nice little segment after the Cross vs Bayley match failed. The match was nothing special, but Banks' attack was a welcome boost to the situation. Asuka (c) def. Bayley (c) by disqualification. Grade: B-
WWE Championship – Drew McIntyre (c) vs Randy Orton (Ambulance Match): McIntyre opened the game with a series of punches and kicks, taking the fight straight to Orton. Orton went for a first RKO, but McIntyre defended before Orton used the center rope to score a low blow as McIntyre tried to re-enter the ring and then hit a suspended DDT on the champion. Orton fielded a punt but his ankle was grabbed by the Big Show, which has returned for the first time since Orton staked it months ago on Raw. Shows Orton strangled across the announcement table. Show's interference allowed McIntyre to take over, attacking Orton and dragging him to the ambulance before the lawn threw him to the side of the vehicle. Orton was able to fight back, attacking McIntyre's injured jaw. The two clashed in the back of the ambulance before getting out and fighting in the cab before McIntyre hit a Claymore, knocking the ambulance door down.
Orton and McIntyre fought in the backstage area before Orton was attacked by Christian, another man Orton targeted during his reign of terror in 2020. The fight returned to the entrance area where McIntyre took Orton on the hood ambulance, but Orton was able to slam McIntyre back into the windshield, the glass cutting McIntyre in several places on his back. After Orton knocked McIntyre off the top of the ambulance, Orton was taken aback by Shawn Michaels' Sweet Chin Music, allowing Michaels to push Orton off the roof of the ambulance. Orton reacted and was about to lock McIntyre in the ambulance, but McIntyre managed to escape before hitting a Claymore. As he loaded Orton into the ambulance, he stopped, dragged Orton out partially, landed a small boat, and locked Orton in the ambulance to win. Ric Flair was then shown in the driver's seat, taking Orton away. The whole game structure was weird, with all kinds of outside interference. In a way it made sense that Orton paid for his sins, but ultimately he didn't keep McIntyre strong. Not bad chaos, but a little strange. McIntyre (c) def. Orton to keep the title. Grade: B-
Universal Championship – Roman Reigns (c) v Jey Uso – Uso and Reigns immediately lock themselves into a collar and elbow with Reigns pushing Uso into the corner. The two then stared at each other. Uso then started trying to use speed and deflection to avoid the champion's attack, but Reigns quickly regained control, pushing Uso to the ropes and saying, "I told you so." Reigns continued to dominate, interrupting every moment of Uso's comeback attempts before Uso landed a flurry of blows, ending with a Samoan drop for two counts. Reigns responded with a big Superman punch, but Uso walked out of the ring to avoid the count. Reigns continued to romp, beating Uso and taunting him, taking chops and beating his cousin with massive punches. Uso made a nice comeback, knocking Reigns out of the ring, hitting a suicidal dive and returning him to the ring before hitting a superkick for a two count. Uso flipped the spear into a pin for an almost fall before hitting a superkick and a splash with the top rope for a nearly fall, but Reigns' kick resulted in a low blow as well.
Reigns started asking Uso to call him his chief and said, "Recognize me as your tribal chief." After Uso refused, Reigns hit a spear. Reigns then held Uso's face in front of the camera and asked Uso to tell the world that this is his camera, his WWE, and that he's the chieftain. Uso replied "not today," frustrating Reigns, who told Heyman that all that mattered was that Uso recognized him. Reigns then dropped punch after punch on Reigns until the referee pulled him out. Reigns told the referee not to contact him again or he would no longer have a job. Jimmy Uso ran to ringside, saying he was going to throw in the towel, but Jey told him not to. Jey begged him not to throw in the towel, so Reigns threw him into the center of the ring and kept throwing punches until Jimmy threw in the towel for the finale. Jimmy said, "We're family, what the hell is wrong with you. You're the chief, you're the tribal chief, leave him alone." This was a wonderful brawl and really brought home Reigns' new heel character, establishing him as a ruthless monster who cares more about his place in the world than "doing the right thing". Uso played his part wonderfully, working as the underdog and fighting like the underdog who had no real hope of beating his bigger, stronger and better cousin. I wasn't completely in love with the ending, but there is something to be said for Uso beating up his family to the point that someone had to step in and make the healthy decision to end things. Roman Reigns (c) def. Jey Use via break to keep title. Grade: A-
require.config({"baseUrl":"https://sportsfly.cbsistatic.com/fly-921/bundles/sportsmediajs/js-build","config":{"version":{"fly/components/accordion":"1.0","fly/components/alert":"1.0","fly/components/base":"1.0","fly/components/carousel":"1.0","fly/components/dropdown":"1.0","fly/components/fixate":"1.0","fly/components/form-validate":"1.0","fly/components/image-gallery":"1.0","fly/components/iframe-messenger":"1.0","fly/components/load-more":"1.0","fly/components/load-more-article":"1.0","fly/components/load-more-scroll":"1.0","fly/components/loading":"1.0","fly/components/modal":"1.0","fly/components/modal-iframe":"1.0","fly/components/network-bar":"1.0","fly/components/poll":"1.0","fly/components/search-player":"1.0","fly/components/social-button":"1.0","fly/components/social-counts":"1.0","fly/components/social-links":"1.0","fly/components/tabs":"1.0","fly/components/video":"1.0","fly/libs/easy-xdm":"2.4.17.1","fly/libs/jquery.cookie":"1.2","fly/libs/jquery.throttle-debounce":"1.1","fly/libs/jquery.widget":"1.9.2","fly/libs/omniture.s-code":"1.0","fly/utils/jquery-mobile-init":"1.0","fly/libs/jquery.mobile":"1.3.2","fly/libs/backbone":"1.0.0","fly/libs/underscore":"1.5.1","fly/libs/jquery.easing":"1.3","fly/managers/ad":"2.0","fly/managers/components":"1.0","fly/managers/cookie":"1.0","fly/managers/debug":"1.0","fly/managers/geo":"1.0","fly/managers/gpt":"4.3","fly/managers/history":"2.0","fly/managers/madison":"1.0","fly/managers/social-authentication":"1.0","fly/utils/data-prefix":"1.0","fly/utils/data-selector":"1.0","fly/utils/function-natives":"1.0","fly/utils/guid":"1.0","fly/utils/log":"1.0","fly/utils/object-helper":"1.0","fly/utils/string-helper":"1.0","fly/utils/string-vars":"1.0","fly/utils/url-helper":"1.0","libs/jshashtable":"2.1","libs/select2":"3.5.1","libs/jsonp":"2.4.0","libs/jquery/mobile":"1.4.5","libs/modernizr.custom":"2.6.2","libs/velocity":"1.2.2","libs/dataTables":"1.10.6","libs/dataTables.fixedColumns":"3.0.4","libs/dataTables.fixedHeader":"2.1.2","libs/dateformat":"1.0.3","libs/waypoints/infinite":"3.1.1","libs/waypoints/inview":"3.1.1","libs/waypoints/jquery.waypoints":"3.1.1","libs/waypoints/sticky":"3.1.1","libs/jquery/dotdotdot":"1.6.1","libs/jquery/flexslider":"2.1","libs/jquery/lazyload":"1.9.3","libs/jquery/maskedinput":"1.3.1","libs/jquery/marquee":"1.3.1","libs/jquery/numberformatter":"1.2.3","libs/jquery/placeholder":"0.2.4","libs/jquery/scrollbar":"0.1.6","libs/jquery/tablesorter":"2.0.5","libs/jquery/touchswipe":"1.6.18","libs/jquery/ui/jquery.ui.core":"1.11.4","libs/jquery/ui/jquery.ui.draggable":"1.11.4","libs/jquery/ui/jquery.ui.mouse":"1.11.4","libs/jquery/ui/jquery.ui.position":"1.11.4","libs/jquery/ui/jquery.ui.slider":"1.11.4","libs/jquery/ui/jquery.ui.sortable":"1.11.4","libs/jquery/ui/jquery.ui.touch-punch":"0.2.3","libs/jquery/ui/jquery.ui.autocomplete":"1.11.4","libs/jquery/ui/jquery.ui.accordion":"1.11.4","libs/jquery/ui/jquery.ui.tabs":"1.11.4","libs/jquery/ui/jquery.ui.menu":"1.11.4","libs/jquery/ui/jquery.ui.dialog":"1.11.4","libs/jquery/ui/jquery.ui.resizable":"1.11.4","libs/jquery/ui/jquery.ui.button":"1.11.4","libs/jquery/ui/jquery.ui.tooltip":"1.11.4","libs/jquery/ui/jquery.ui.effects":"1.11.4","libs/jquery/ui/jquery.ui.datepicker":"1.11.4"}},"shim":{"liveconnection/managers/connection":{"deps":["liveconnection/libs/sockjs-0.3.4"]},"liveconnection/libs/sockjs-0.3.4":{"exports":"SockJS"},"libs/setValueFromArray":{"exports":"set"},"libs/getValueFromArray":{"exports":"get"},"fly/libs/jquery.mobile-1.3.2":["version!fly/utils/jquery-mobile-init"],"libs/backbone.marionette":{"deps":["jquery","version!fly/libs/underscore","version!fly/libs/backbone"],"exports":"Marionette"},"fly/libs/underscore-1.5.1":{"exports":"_"},"fly/libs/backbone-1.0.0":{"deps":["version!fly/libs/underscore","jquery"],"exports":"Backbone"},"libs/jquery/ui/jquery.ui.tabs-1.11.4":["jquery","version!libs/jquery/ui/jquery.ui.core","version!fly/libs/jquery.widget"],"libs/jquery/flexslider-2.1":["jquery"],"libs/dataTables.fixedColumns-3.0.4":["jquery","version!libs/dataTables"],"libs/dataTables.fixedHeader-2.1.2":["jquery","version!libs/dataTables"],"https://sports.cbsimg.net/js/CBSi/app/VideoPlayer/AdobePass-min.js":["https://sports.cbsimg.net/js/CBSi/util/Utils-min.js"]},"map":{"*":{"adobe-pass":"https://sports.cbsimg.net/js/CBSi/app/VideoPlayer/AdobePass-min.js","facebook":"https://connect.facebook.net/en_US/sdk.js","facebook-debug":"https://connect.facebook.net/en_US/all/debug.js","google":"https://apis.google.com/js/plusone.js","google-platform":"https://apis.google.com/js/client:platform.js","google-csa":"https://www.google.com/adsense/search/async-ads.js","google-javascript-api":"https://www.google.com/jsapi","google-client-api":"https://apis.google.com/js/api:client.js","gpt":"https://securepubads.g.doubleclick.net/tag/js/gpt.js","newsroom":"https://c2.taboola.com/nr/cbsinteractive-cbssports/newsroom.js","recaptcha":"https://www.google.com/recaptcha/api.js?onload=loadRecaptcha&render=explicit","recaptcha_ajax":"https://www.google.com/recaptcha/api/js/recaptcha_ajax.js","supreme-golf":"https://sgapps-staging.supremegolf.com/search/assets/js/bundle.js","taboola":"https://cdn.taboola.com/libtrc/cbsinteractive-cbssports/loader.js","twitter":"https://platform.twitter.com/widgets.js","video-utils":"https://sports.cbsimg.net/js/CBSi/util/Utils-min.js"}},"waitSeconds":300});